Dr. Clark Haptonstall, Chair of the Department of Sport Management, was recently awarded the 2022 Sarah A. Burnett Teaching Award in the Social Sciences by Rice University. This is the second year in a row a member of the Sport Management faculty has been the recipient of this prestigious award with Diane Crossey winning in 2021.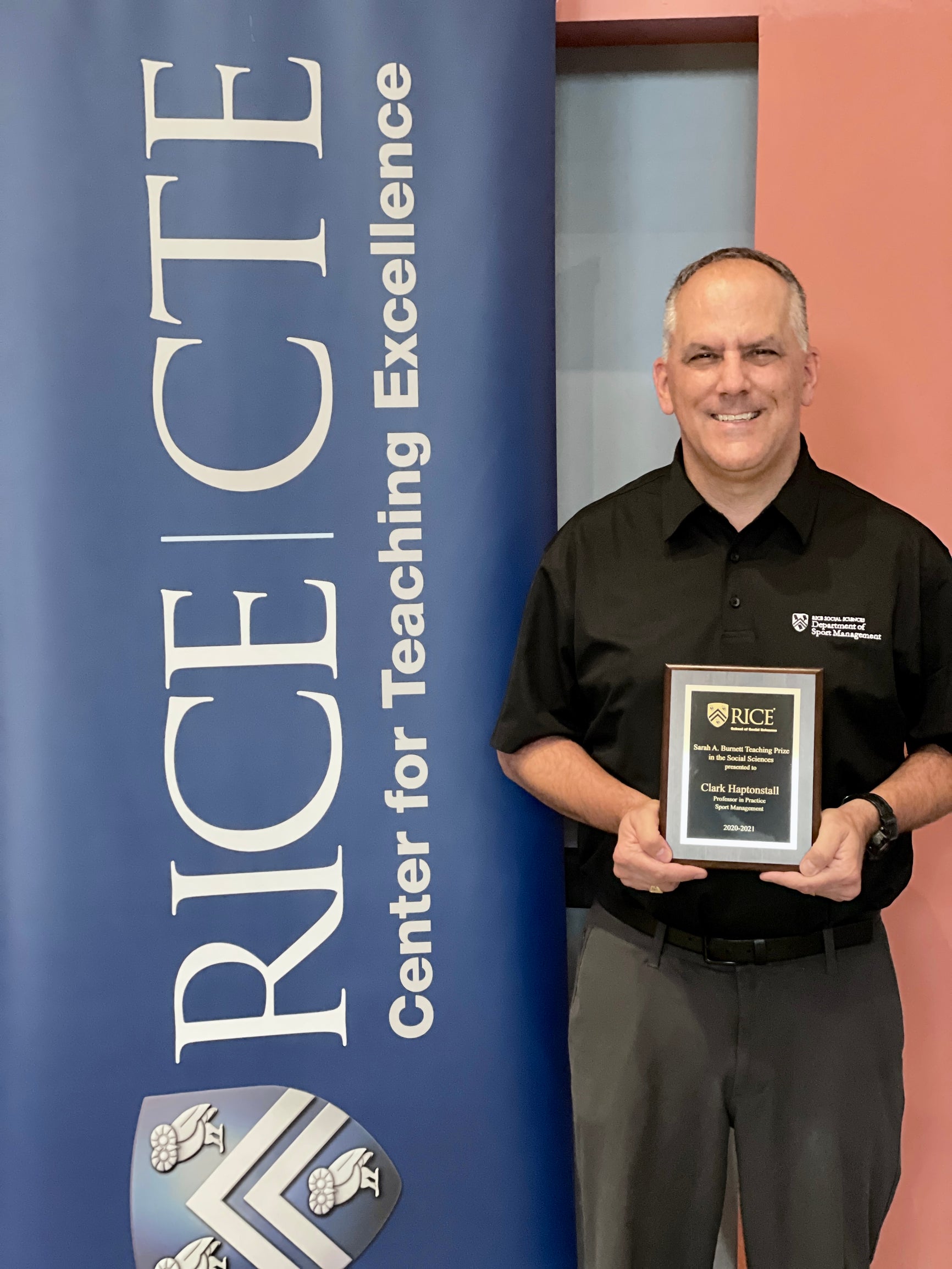 The Sarah A. Burnett Teaching Prize in the Social Sciences is "awarded to the faculty member(s) with the highest teaching scores in the previous academic year." Additionally, only the faculty members who have "taught at least two undergraduate courses with a minimum of 15 students, with at least one being a lecture course" are eligible to receive this award.
 
"Several years ago I set a personal goal to win a teaching award at Rice," Haptonstall said. "Frankly, I didn't know if it would be possible to win because Rice has so many excellent instructors. The Burnett Teaching Prize is very important to me because I love teaching and to be listed alongside the incredible past winners is truly humbling."
 
The award was established in honor of former professor Emerita Sarah A. Burnett, who was a member of Rice University's Department of Psychological Sciences for 40 years. Burnett also occupied the positions of Dean of Students and Vice President for Student Affairs during her time at Rice.
 
"My favorite class to teach is Sport Ethics because it provides students the opportunity to discuss and debate the multitude of ethical dilemmas in the sport industry," Haptonstall said. "The class is exciting every week and there is always new content."
 
Along with Sport Ethics (SMGT 350), Haptonstall also currently teaches Sport Marketing (SMGT 362) and The Olympics Games (SMGT 396).
 
"Dr. Haptonstall is everything a professor should be," Jen Spell '22 said. "He cares about his students, he clearly loves what he's teaching, and he goes above and beyond for everyone in the department. He isn't only your professor, but he's also your biggest fan. I wouldn't be the student or young professional I am without him."
 
In addition to his teaching, Haptonstall used his role as the department chair to design a Sport Analytics major which launches in Fall 2022. The Department of Sport Management has also been ranked #1 in the country for the past three years.