Rice Sport Management is ranked No. 1 by Niche in their 2020, 2021, and 2022 Best Colleges for Sports Management in America ratings! This ranking is based on rigorous analysis of academic, admissions, financial, and student life data from the U.S Department of Education along with millions of reviews from students and alumni.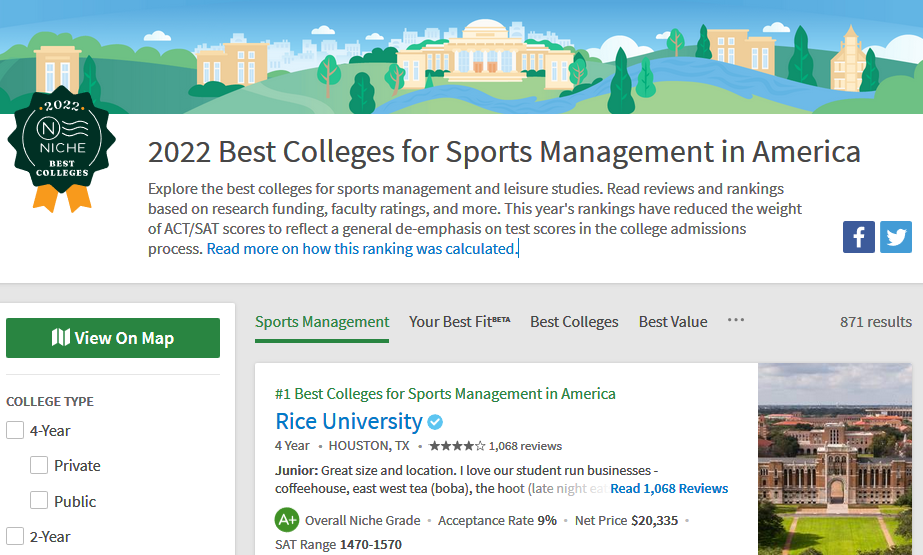 Rice University is named one of the nation's top 20 universities in the 2022 edition of U.S. News & World Report's "Best Colleges" guidebook. Rice also landed at No. 5 on the U.S. News list of the nation's best values for higher education, up from No. 8 last year and Rice remains the No. 1 university in Texas. 
Rice University ranks among the most lauded institutions in the history of the Princeton Review's annual survey on the nation's best colleges, according to a newly published report analyzing three decades of reviews on America's institutions of higher education. 
Rice landed at No. 7 in Niche's 2022 ratings of best colleges in the U.S. and topped the list as No. 1 among colleges in Texas. The university also ranked No. 4 on the Niche list of colleges with the nation's best professors and No. 10 on its list of best college campuses. 
Beginning in fall 2019, undergraduate students from families with incomes under $130,000 will pay no tuition through full-scholarships and grants. This initiative is intended to address challenges faced by families with moderate incomes.
For more information on The Rice Investment, visit their website