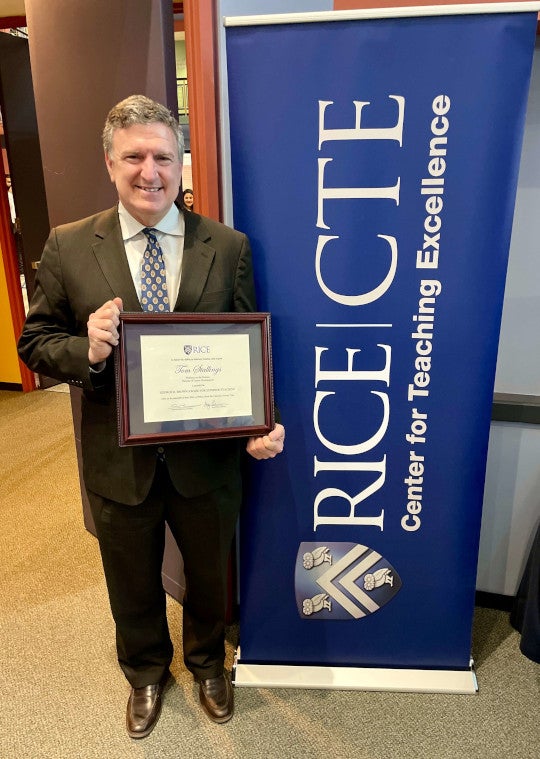 Tom Stallings, Professor in the Practice in the Department of Sport Management, was recently awarded the 2023 George R. Brown Award for Superior Teaching by Rice University. This marks the third consecutive year that a faculty member in the Department of Sport Management has been recognized for teaching excellence, with Dr. Clark Haptonstall winning the Burnett Teaching Award in 2022 and Diane Crossey in 2021.
The George R. Brown Award for Superior Teaching is "determined by the votes of alumni" as they are requested to "select their top 5 faculty" members from during their time as an undergraduate student.
"Tom works tirelessly to help our students and he is certainly deserving of this honor," Clark Haptonstall, Chair of the Department of Sport Management, said. "The great part about the George R. Brown Award is that Rice alumni are the voters. These are former students who have taken Tom's classes and have personally benefited."
Stallings, in his 16th year at Rice, is the first Sport Management faculty member to win this prestigious award.
"With the emphasis our department places on teaching and engagement with students, being selected means a great deal to me," Stallings said. "I know there are many other qualified faculty in Sport Management who could have been selected for this award, so it is truly an honor."
The award was established in honor of George R. Brown who was "heavily involved in leadership at Rice. He served as a member of the Board of Trustees and became chairman of the Board in 1950. He contributed to guiding "the university toward a culture of excellence in teaching, scholarship and research".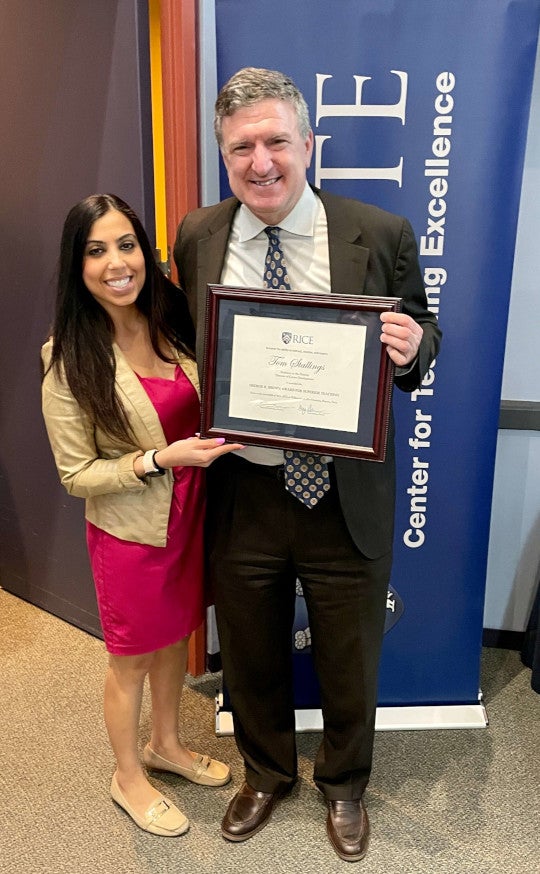 "Tom was very friendly, engaging, and spent a lot of time helping me and all of the other Sport Management students," Sabrina Tour '09 said. "It was apparent that he was very interested in seeing the students learn and grow. He was constantly working to set students up with internships to help with their futures after graduation. I'm so glad that he got this award. He definitely deserves it! I'm glad he's at Rice!"
In addition to teaching classes, Stallings also oversees the Sport Management internship program.
"My favorite class to teach is Sales & Revenue Generation (SMGT 360)," Stallings said. "I spent 15 seasons in sports sales and developed a passion for it, so I enjoy sharing that passion with my students. However, the Sport Management Practicum (SMGT 276) class is also very rewarding. I get to witness ambitious students who may not know about all the opportunities available to them in the sports industry. Seeing them graduate with a wealth of experience and the opportunity to work in a career they find fulfilling is very fulfilling for me as well."
The Department of Sport Management has also been ranked #1 in the country for the past four years.
"Rice is truly a unique place. The students are exceptional, the culture is amazing, and it really is a privilege to work with students of the caliber that we have at Rice." Stallings said.
Sergio Rojas, a sophomore from Houston, Texas, is double-majoring in Business (Finance concentration) and Psychology.