Jacob Kauffman '23, who earlier this year won the AXS National Collegiate Sports Analytics Championship, has won the Jimmy Disch Sport Analytics Award.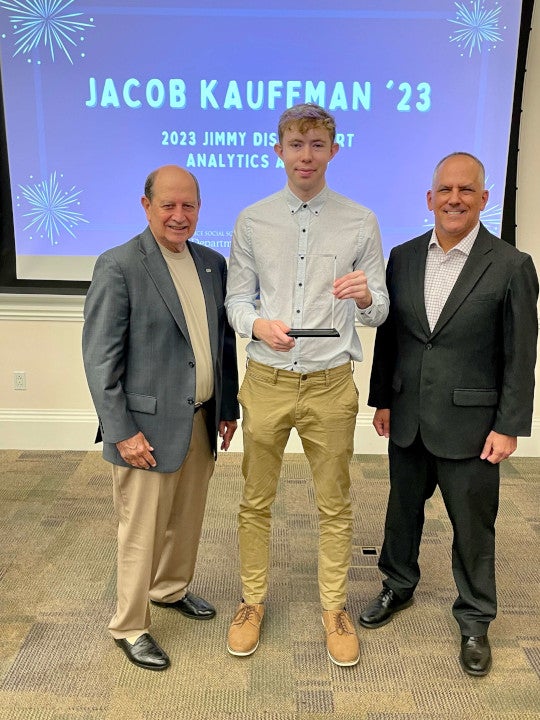 Dr. Jimmy Disch, who recently retired from teaching and now serves as an Associate Professor Emeritus, created the Sport Management major's Sport Analytics concentration during his time teaching at Rice. To honor his legacy, the Jimmy Disch Sports Analytics Award was started in 2021 to recognize the graduating senior who has shown a strong commitment to academic excellence while earning exceptional experience in the Sport Analytics field as a Sport Management major at Rice.
"I am proud of how I have grown as a student, analyst, and person during my time at Rice, and this award is great validation of the work that I put in throughout my journey here," said Jacob. "Without the support of the Department of Sport Management, I would not be where I am today."
For Kauffman, it was a class during his freshman year that opened up his eyes to Sport Analytics. A class called "Sport Business Analytics Seminar" was co-taught by Disch and also former Houston Rockets Director of Business Analytics, Winston Lin. This class allowed Kauffman to realize it was possible to pursue his passion for sports academically.
"This class (Sport Business Analytics Seminar) opened my eyes to the role of data within the sports industry," Kauffman said. "It allowed me to realize that if I worked hard enough to develop the requisite skills, the Department of Sport Management would put me in a place where I would be competitive for a role within the industry."
As Kauffman progressed through the Sport Management major, he completed two sport analytics internships as well as co-led the Rice Sport Analytics Team (RSAT) alongside Henry Thurman '23.
"During the past two summers, I had the opportunity to intern as a Business Analyst for two great companies: Machete Group, a sports consulting group in Houston, and Lucra Sports, a sports betting startup in NYC," Kauffman said. "I co-led an analytics group for Rice's Men's Basketball team and, through Rice's new Hutchinson Initiative, eventually transformed the organization into a club for Sport Analytics students interested in all sports/aspects of the sport analytics space."
As he proceeded down his concentration, Kauffman took classes under Assistant Professor Hua Gong, a faculty member who specializes in Sport Analytics. Kauffman felt qualified for his internships and is grateful for the knowledge and mentorship that Gong provided him.
"Jacob has always been a hardworking and dedicated student," Gong said. "Over the past few years, Jacob has demonstrated academic excellence in class and various national sport analytics competitions. He is a well-deserved winner of this year's Jimmy Disch Sport Analytics Award, and we hope to develop more students like Jacob in the near future."
As for what's next for Kauffman ... he will now work for his lifelong favorite team: The Houston Astros as an Analyst for their Business Strategy and Analytics team.
"This would not have been possible without the support of the faculty in Sport Management, and I can't wait to go win another ring in the Astros front office!"
Sergio Rojas, a sophomore from Houston, Texas, is double-majoring in Business (Finance concentration) and Psychology.