Jacob Kauffman '23 is the winner of the 2023 AXS National Collegiate Sports Analytics Championship Game Analytics division, a competition with more than 150 students participating. For Kauffman, coming out on top in this competition shows how far he has come in his technical and coding skills during his time at Rice.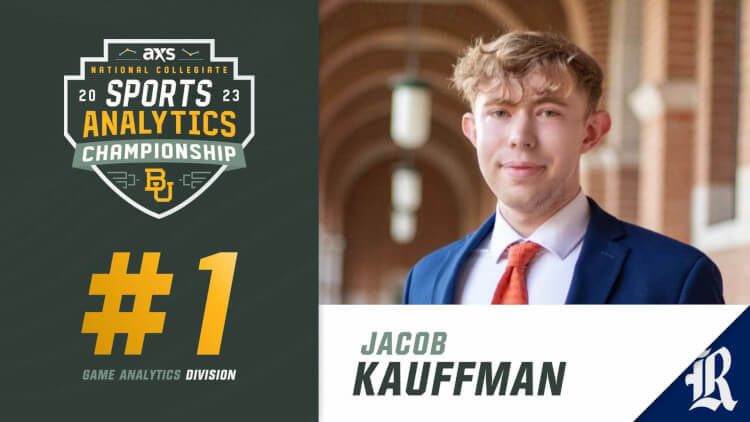 "It is definitely a validation of my work and dedication to sports analytics for the last four years," Kauffman said. "Considering my limited technical and coding skills upon entering college, having won this championship reinforces the reward of starting from the ground up and investing the necessary effort."
The AXS National Collegiate Sports Analytics Championship, hosted by Baylor University, is an annual event that allows college students like Kauffman, and fellow Rice senior Henry Thurman '23, who placed 6th in the same division, with a platform to display their analytical abilities within the sports industry. The competition requires competitors to battle it out in several rounds by working on projects with sports data.
"The competition commences with a data hackathon-style event, where participants work independently to complete a project based on sports data that is provided to them," Assistant Professor of Sport Analytics Hua Gong said. "This is followed by several rounds of presentations, where students showcase their projects. The contestants who excel in each round proceed to the Final Four, where the top four performers will compete for the championship title."
The competition tasked Kauffman with analyzing a dataset containing over 90,000 rows of data from the Big 12's 2018-2019 basketball conference season. While reviewing the dataset, Kauffman found a trend between the Big 12's most successful teams and the types of shots they were shooting.
"In playing around and creating visualizations with the data, I noticed that the conference's best teams were taking and making mid-range jumpers at a much higher rate than other teams," Kauffman said. "I was ultimately able to turn this trend into my final project, which utilized R to create visualizations, multivariate regressions, and Machine Learning to determine the surprising utility of the midrange jumper during the conference season."
Kauffman, who is studying Sport Analytics and is the President of the Rice Sport Analytics Team (RSAT), notes that many of the skills taught by the Department of Sport Management were applicable as he competed in the competition.
"Through the SMGT 440 (Sport Business Analytics) and SMGT 431 (Advanced Sport Analytics) courses, I was able to develop many of the technical skills that were critical in crafting my project," Kauffman said. "The department fostered my communication and presentation abilities, which were invaluable in creating a powerful and persuasive presentation that showcased my work effectively."
Kauffman winning this competition is another example of how Rice's Department of Sport Management is positioning students to succeed in the sports industry.
"Jacob is a talented and hardworking student with a deep passion for sports, and I am not surprised at all that he won this competition," Gong said. "[Kauffman winning] means that our department has equipped students with comprehensive training in sports analytics and has well prepared them for a career in the sports industry through various sport management classes and internships."
As Kauffman wraps up his time at Rice, he will now look to use this achievement following graduation to pursue a career in the sports industry.
"This competition was a great opportunity to showcase my skills and abilities to professionals in the field, and I'm hoping to use this recognition to open doors and build connections that will help me land a job in a related industry," Kauffman said. "Ultimately, my goal is to continue developing my skills, honing my expertise, and making a positive impact within the sports industry through the power of data analysis and strategic thinking."
Reed Myers, a senior from Paradise Valley, Arizona, is double-majoring in Sport Management and Psychology.