As children, we were often asked, "What do you want to be when you grow up?" This question elicits either farfetched responses with no vision, or aspirations with purpose behind them. The latter seemed to be true for Breion Allen '16.
Allen aspires to a reporter one day. She is a student athlete at Rice University, a Sport Management major and a shooting guard for the women's basketball team. She recently completed a summer broadcasting internship with Comcast SportsNet Houston in order to become comfortable with the environment and get a better feel for the broadcasting world.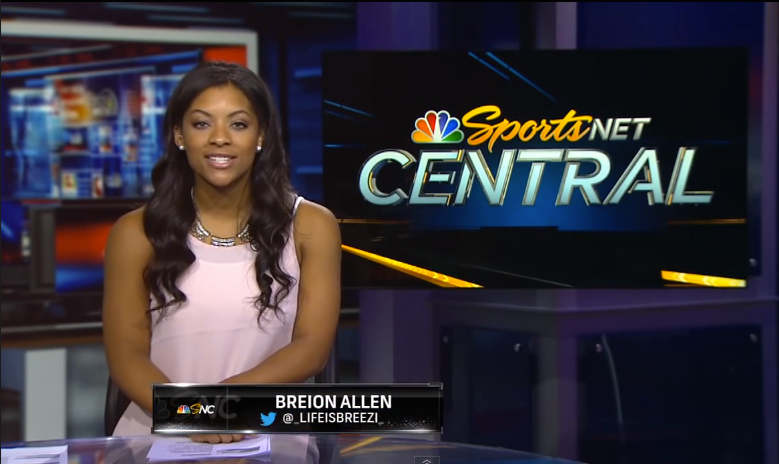 She worked long hours, sometimes as long as 3:00pm to 2:00 am, yet she still managed to balance the internship, schoolwork, and the obligations to her sport.
"Once I got over the long hours, I got used to [that] and I started building connections with people," Allen said.
When Allen first began working at Comcast, she ran the teleprompter on set. Initially, it was challenging to keep it at the pace of the reader or to control the teleprompter in general. But the more comfortable she became, the more she sought to learn and achieve great things. As she got to know her co-workers and how things worked around the office, Allen realized that "this is the atmosphere I would like to work in. It's sports 24/7."
She entered data into the system for the ticker (the running status bar located at the bottom of the screen) on their television broadcasts, as well as built graphics for the show. She was also granted the opportunity to log games' play-by-plays for local and professional Houston teams and was responsible for assembling a few highlight reels for NBA Summer League and Astros games.
Not everything she did was in the office, though. Allen also performed stand-ups in the field. Stand-ups essentially give the audience a quick insight of a news story. For example, she presented a stand-up when Becky Hammon, now former WNBA player for the San Antonio Stars, announced that she was going to become an assistant coach for the NBA's San Antonio Spurs' upcoming season.
Her internship was multi-faceted, which allowed for a great experience. "Once I got over my shyness of being in front of the camera, I realized that was what I wanted to do," Allen said. She plans on pursuing a career in broadcasting after graduating from Rice.
Elena Gumbs '16 is from Cibolo, Texas, majoring in Sport Management and minoring in Business.