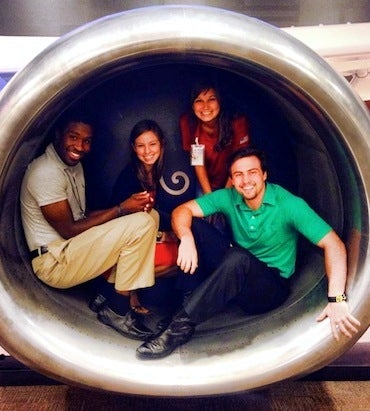 William Beasley '14 has always been fast on the ground, but his new job with Southwest Airlines will take him into the air. Beasley has recently begun his new career as a Customer Service and Rapid Rewards Representative with Southwest Airlines.
"My short time with Southwest Airlines has been exciting so far," said Beasley. "I am excited to see where my time with them will take me."
After graduation, Beasley worked with Southwest Airlines while performing a Community Affairs & Grassroots Marketing internship. His hard work and dedication during his internship ultimately led to a full-time job with the company.
"The internship after graduation was a good learning experience for entering an industry I had little experience in," said Beasley. "I was able to get a good understanding of how to succeed at Southwest and was lucky enough to land full-time job right afterwards."
During his time at Rice, Beasley, a Sport Management and English major, was a member of the varsity men's track and field team, competing in the 60M, 100M and 4x100M relay. In addition to his academic and team commitments, Beasley also completed internships with YourCause.com, Inside The League, and the Rice University Athletics Marketing Department.
"Learning to balance classes and track and field really helped in developing my time management skills," said Beasley. "My time at Rice has definitely helped me succeed since then."
Justin Wolin, a senior from Germantown, Maryland, is majoring in Sport Management and Economics and minoring in Business.