Trevor Caswell '15 completed his first broadcast as a sideline report for the American Sports Network (ASN), covering Rice University's October 4th home football game against the University of Hawai'i.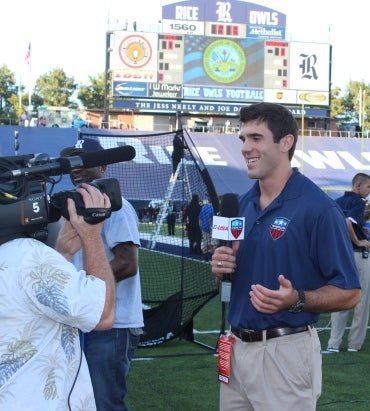 Caswell is a senior at Rice University and is double majoring in Sport Management and History. He is a transfer from the United States Air Force Academy and played football for both Rice and Air Force before choosing to hang up his cleats to focus on broadcasting. With his background firmly rooted in playing football, Caswell looked to continue his involvement in the sport industry.
"My passion for sports inclined me to turn on Sports Radio 610, Sports Talk 790 and ESPN 97.5," Caswell said. "Sports have always been good topics to discuss with friends and I enjoyed learning more about particular teams and players, so I could contribute to conversations and take a stance on opinions."
Upon declaring his Sport Management degree, Caswell immediately jumped at the chance to gain industry experience, working as a Communications Intern for the Houston Dynamo. He followed up his Dynamo experience with two stints with the Houston Texans as a Gameday Media Runner and a Training Camp Communications Intern, mediating interactions between media and Texans' players and coaches, in addition to a semester long internship with Sports Radio 610.
When approached by Rice Athletics about his interest in helping a game day television broadcast, Caswell jumped at the chance to gain experience. He leaned heavily on his experience with Sports Radio 610, studying on-air personalities, their voices, fillers, and the use of the language to develop his own media personality. Interactions with show hosts became his best resource, soaking in anecdotes from successful personnel.
As the second half of the Hawai'i-Rice game kicked off, Caswell made his broadcasting debut on ASN, providing a first half recap and injury report. Following Rice's victory, he interviewed head coach David Bailiff about the team's performance against Hawai'i.
"When you know you're going on, the pressure is on," remarked Caswell. "And it forces you to think and articulate quickly. In my segments, I focused on conveying the message to the audience accurately and in the simplest way possible. I made mistakes and felt the pressure, but just rolled with it and overcame the adversity. Overcoming adversity is the biggest takeaway experience."
When asked about interviewing Bailiff, Caswell said, "I just improvised and used my football experience to help with my interview questions after the game."
Upon graduating Rice, Caswell aims to work as a sports information director for a collegiate program. He hopes to use it as a platform to explore a multitude of career options including as an athletic director, communications director, on-air personality, or editor or producer of a sports show. His true goal is highlight the hard work that student athletes put into their lives, balancing academics and athletics.
"I enjoy asking the questions and creating the topics that will help shine a positive light on athletes I am interviewing or talking about," concluded Caswell. "The players deserve the spotlight and I relish getting to shine it on them."
Bo Sripharphan, from Richardson, TX, is double majoring in Statistics and Sport Management.