The Houston Livestock Show and Rodeo has hired three Rice Sport Management students for the first time this spring to help with preparation and execution of the main events that began February 27.
Simone Bergsrud '19, Mary Claire Danilevics '18, and Lance Wright '18 are all Sport Management majors who were selected to work with Rodeo Houston this semester. Each are assisting different departments with various duties vital to the event.
The Houston Livestock Show and Rodeo is the city's largest event averaging about 2.5 million people in attendance every year over the past five years. In addition to the Rodeo itself, the 20-day event includes a carnival, cook-off, charity run, and multiple other subparts. The 100+ year-round employees depend on the help from hired interns and over 33,000 volunteers to ensure the success of an event of this magnitude.
"Between the Livestock show, Carnival, Wine Garden, Horse Arena, etc., there's just so many pieces," Lisa Gagnon, Executive Director of Marketing, Public Relations and Presentation said. "The Rice interns have been great and very hardworking, diligent, and dependable as we are very busy putting together this big event."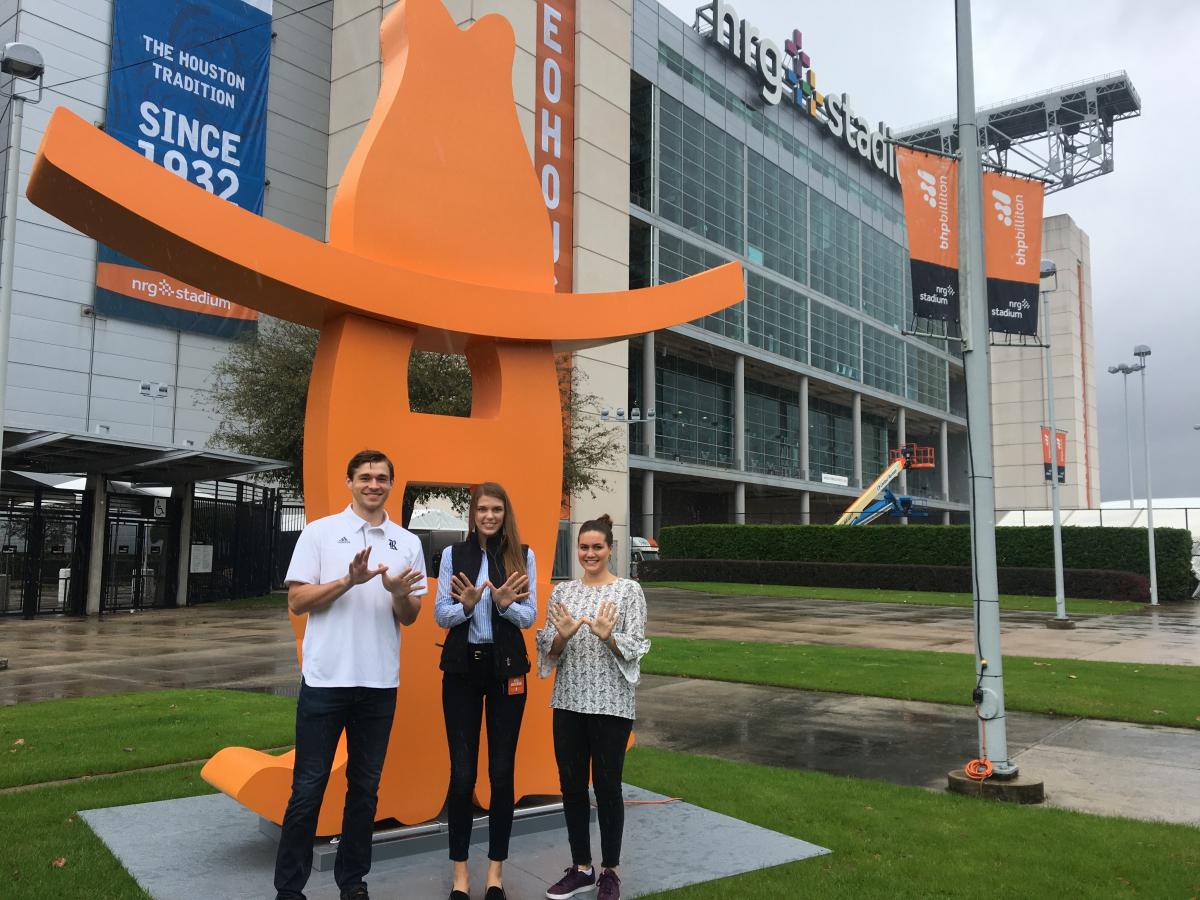 Gagnon also hired Rice students for internships in her previous job as the Vice-President for the Super Bowl 51 Host Committee.
"There are so many moving parts on this event," Wright said. "I have had a lot of different jobs and no matter how small they may seem at the time, I see how busy the Rodeo Houston employees are and I know I am helping. They wouldn't be able to do it all."
Bergsrud, Danilevics, and Wright are working with Human Resources, Media and Public Relations, and the Marketing department respectively. Though each preforms different tasks, they feel all their duties will be applicable to what they want to do post-graduation.
"This internship helped solidify what I wanted to do after graduation," Danilevics said. "Now I realize I really do love media and public relations. It is very dynamic and I like how fast paced it is. I've gotten a lot of hands on experience."
"Working in HR, I really get to understand the nitty-gritty and all the things that have to go on behind the scenes in order to put on such a major event," Bergsrud said. "Before this internship, I wasn't familiar with the opportunities with Rodeo Houston and I wouldn't have had that access without Rice."
Bergsrud, Danilevis, and Wright will continue their work until Rodeo Houston concludes on March 18.
Mallory Radtke, a senior from Leawood, Kansas, is double majoring in Sport Management and Kinesiology.