Three Rice University undergraduates, Alex Lyons '16, Michael Warren '16, and Jee Kang '17, interned with the Houston Rockets this past summer, experiencing valuable learning opportunities that will affect their respective careers ahead.
All three students credited Professor Tom Stallings, a faculty member in the Department of Sport Management, for their ability to receive the internships; they asked him for connections and for any possibilities to intern with the Rockets. It paid off for the students, as their internships helped them understand more about the business side of sports. Kang worked with Strategic Marketing, Lyons worked with Basketball Operations, and Warren worked with Ticket Sales and Services.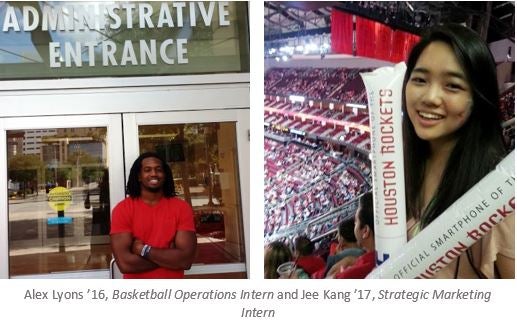 "It was cool to see from a different perspective," said Warren. "The Sales class [at Rice] taught me everything."
"[The internship] was great. I learned a lot," said Lyons. "I saw different things from a different perspective."
These students also learned lessons outside their respective roles from their internships. Warren noticed how valuable one's character and work ethic is in the sports world, and that everybody should take advantage of any opened doors for them.
"Your work ethic and character will carry you throughout your career," said Warren. "People notice it, and see how much you're worth."
Kang's department was given motivational speeches by U.S. Navy Seals, which encouraged her to work hard and taught her how to effectively manage a group.
"I learned a lot of leadership," said Kang. "I had never been so inspired in my life before."
Each student gained experience and knowledge about their respective Rockets' departments and learned what aspects of their internships that they liked, which will help them in planning their future careers.
When asked what their favorite moment was, all three agreed that it was meeting the Rockets' center, Dwight Howard.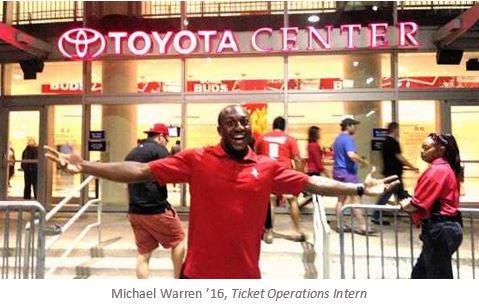 DJ Green, a sophomore at Rice University, is a Sport Management major from Mesquite, Texas.