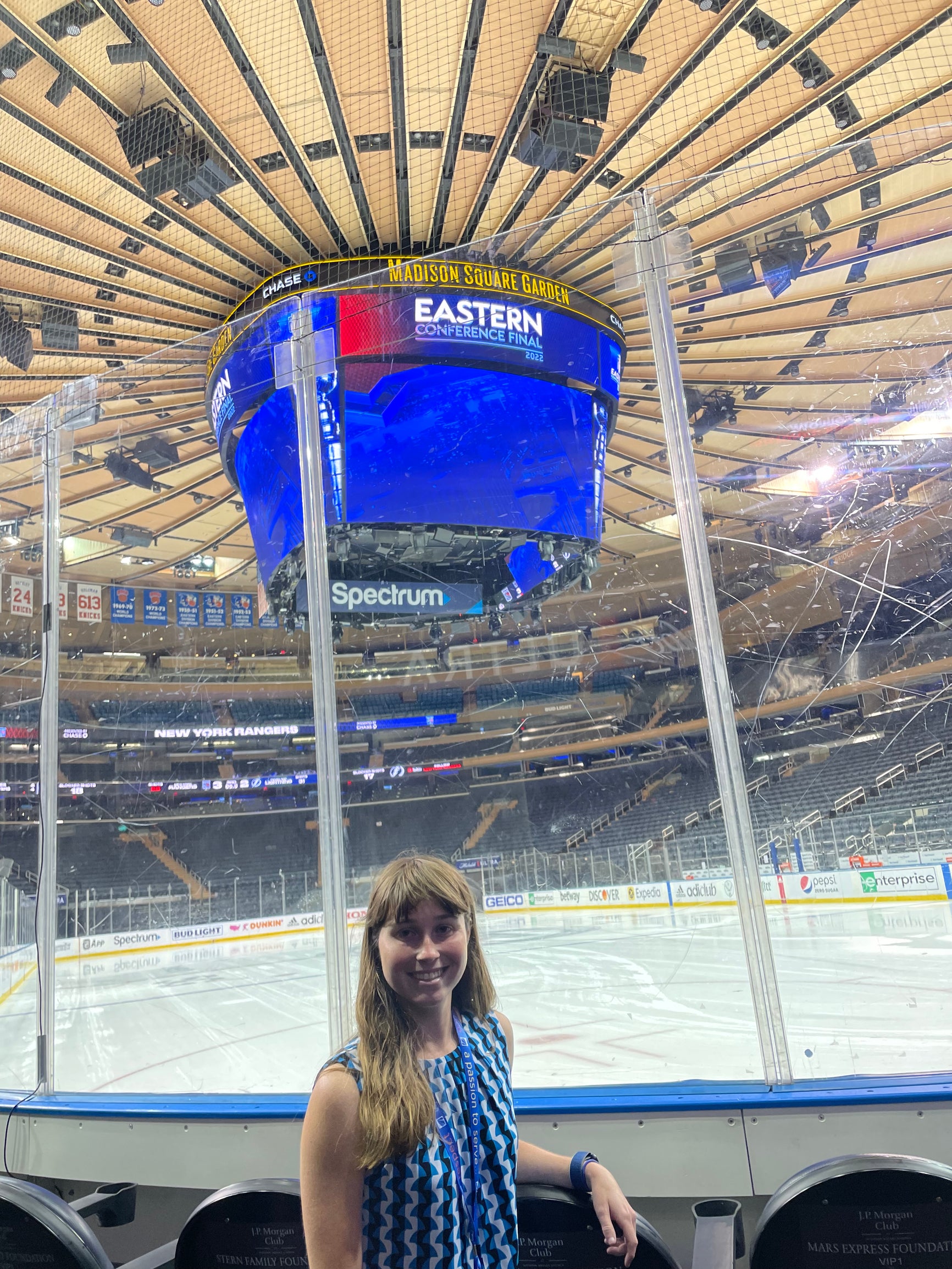 Taylor Scott '20 spent Summer 2022 working as a Legal & Business Affairs Summer Associate with Madison Square Garden Entertainment Corp. Currently studying at the University of Texas School of Law, Scott's time at Rice allowed her to cultivate an experienced and distinguished background.
"Rice's Department of Sport Management allowed me numerous opportunities to grow my experience and professional network," Scott said. "My internship experiences allowed me to bring a unique background to the interviewing process that most students from other law schools simply don't have."
At Rice, Scott established a resume that included interning at organizations such as the NFL Players Association, Select Sports Group, LLC, and the Houston Super Bowl Host Committee.
"I am doing pretty much exactly what I said I wanted to do when I walked on campus as a freshman in 2016," Scott said. "The department has been there every step of the way, providing support and connecting me with professionals who have helped propel my career."
That desire to work in sports was evident not only to Scott herself, but also to Professor in the Practice Tom Stallings who feels that Scott's career aspirations were what set her apart from her peers.
"A part of my first conversation with a new student is learning what they want to do and helping them realize that their ideal career is attainable," Stallings said. "Taylor knew what she wanted and just wanted guidance on how to get there."
Fast forward to the summer of 2022 in New York City, Scott's fluctuating daily responsibilities primarily consisted of drafting and reviewing agreements, legal research, and corporate research on potential partners.
"My 'home base' was the Sales & Marketing practice area, which focused on the marketing partnership agreements and hospitality suite licenses," Scott said. "I did many projects outside that practice area, touching labor and employment law, intellectual property, and service contracts for various entertainment ventures and MSG Networks."
Scott and her team work with members across the organization's departments. One of the highlights from this summer was seeing her work come to fruition and being used by other MSG staff members.
"Because we are an in-house legal team, our 'clients' are the staff members in departments such as marketing partnerships," Scott said. "I really enjoyed being given the opportunity to communicate with clients about the agreements I've drafted and see my work sent over to the corporate partner for signature."
One way that Scott has grown her legal skills is by working with Madison Square Garden's various entities where she gathered experience working with the legal matters of many of MSG's organizations.
"It was great to be able to work not just on legal matters involving the New York Knicks, New York Rangers, and events at Madison Square Garden, but also on other entertainment properties such as Radio City Music Hall, MSG Sphere, and MSG Networks," Scott said. "These varied experiences helped me build a broad skill set and grow my knowledge of the industry. This position really helped me grow as a future lawyer by exposing me to every legal area impacting the company and its operations. Being the only summer associate in the department allowed me to seek out work from every practice area, which also provides opportunities to develop strong relationships with many MSG attorneys and support staff."
Scott has already started the application process for finding a 2L firm position for next summer.
"At UT Law, most students typically spend their second summer of law school working at the firm that gives them a full-time return offer for after graduation," Scott said. "I'm in the application process for that 2L summer firm job now and will be very excited once I have that plan solidified."
It remains to be seen as to what organization Scott will land with following her graduation from law school. Stallings has a good hunch that Scott will use her work ethic and determination to find the right position to achieve her career goals.
"I see Taylor outworking everyone to achieve her goal of landing a job at a player's union, with a sports organization's legal department, or at an agency post-law school," Stallings said. "I have found her to be a pretty safe bet on achieving success based on her growing experience, intellect, work ethic, and intense drive to do what it takes to achieve her goals."
Reed Myers, a junior from Paradise Valley, Arizona, is double-majoring in Sport Management and Psychology.