This semester, students in Professor Tom Stallings's Sport Management Practicum class (SMGT 276) have each shadowed professionals in industries in which they are interested.
While the Sport Management department has always encouraged students to reach out to and shadow people working in fields in which they are interested, Professor Stallings requires his students to take the experience one step further by making it an assignment. Afterwards, students share their shadow opportunities with their classmates via in-class presentations. While observing and reporting what the shadowed professionals do on a day-to-day basis is a critical part of the assignment, students discuss their professionals' career paths as well, and garner and share any advice that their professionals give about how to succeed in their industry or field.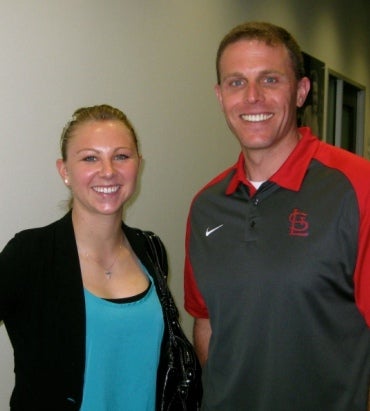 "The shadow assignment is a good lesson for them, to show that they can really achieve the opportunity to work in any field that they want, provided that they do the right steps," Stallings said. "Once students complete shadow experiences, they realize that they have a lot more power and ability to reach people of prominent positions in organizations they admire."
For students, the shadow opportunities provide insights into potential industries and careers that cannot be gleaned from any textbook or lecture.
"What I really appreciated about my shadowing experience was the ability to see someone working outside of a classroom setting," Justin Wolin '15 said. "Seeing how they work in the moment really exposed me to the types of pressure involved and skills required to succeed in the sports industry."
"The most beneficial part of shadowing someone was getting to see what they actually do on a day-to-day basis," Amy Czyz '15 said. "It allows you to see if that occupation or position is something you can see yourself doing in the future."
Additionally, the shadow experience provides a networking opportunity for students.
"It was helpful to meet a lot of people within the organization and network with them," Wolin said. "I met some people with the Washington Wizards working in departments I am interested in, and I hope to either shadow or intern with them in the future."
Students currently in Sport Management Practicum, and the professionals whom they have shadowed, are:
Amy Czyz: Joe Keenan, Nike, Strategic Account Executive – Field Sports & Janielle Allen, Nike, Strategic Account Executive – Women's Footwear
Tanyan Farley: Olivia Villacorta, Muscle Milk, Brand Marketing Manager
Christian Fletcher: Bronwyn Greer, US Clay Court Championships, Tournament Director
Bobby Janisch: Jim Janke, Tommie Vaughn Ford, President
Taylor McHargue: Donald Bowers II, Federal Reserve Bank of Dallas (Houston Branch), Assistant Vice President
Mary Mohr: John Schreiver, Houston Texans, Vice President of Ticket Sales and Events
Mariah Riddlesprigger: Adelqui Boué, International Sport Agency, Executive Vice President/General Counsel
Jarvis Sam: Daniel Grigsby, Los Angeles Lakers, Outside Legal Counsel
Justin Wolin: Missy Rentz, Washington Wizards and Washington Capitals, Director of Marketing
Mary Mikell Lampton, a sophomore from Jackson, Mississippi, is majoring in Sport Management and minoring in Business.