On Thursday, April 10, Rice University's Department of Sport Management partnered with the Rice Sport Business Society (RSBS) to host a panel called "To Draft or Not to Draft? An Exploration of Athlete Images." The panel focused on the public image of professional athletes.
"Because everyone can take pictures and record video with their phones, a professional athlete's image has never been more important than it is now," said Dr. Clark Haptonstall, chair of the Department of Sport Management and one of the members of the panel. "Professional athletes and celebrities are constantly under scrutiny so, if they want to maintain a positive public image, they need to understand how important their image is around the clock. Each athlete is a brand and they need work hard to protect their reputation."
In addition to Haptonstall, who founded the Haptonstall Group, four other professionals in the sport industry were on the panel. They were:
James Casey '10, professional football player for the Philadelphia Eagles
Jeff Nalley, CEO of Select Sports Group and contract agent for Johnny Manziel
Brittany Bock, professional soccer player and captain of the newly formed Houston Dash
Brian Michael Cooper, former president of the Rio Grande Valley Vipers and a D-League affiliate of the Houston Rockets
"I was thrilled to be on the panel with such a distinguished group," Haptonstall said. "The Rice Sport Business Society did an excellent job of putting together this event. We are really blessed to be in Houston where we have access to these types of professionals on a constant basis."
Held during Owl Days, an overnight program for newly admitted students, the panel attracted both prospective students and current students.
"Ultimately we had about 60 people come to the event, which we were very excited about," said Justin Wolin '15, President of RSBS. "It was a great way to raise awareness for both RSBS and the Sport Management Department here."
The Rice Sport Business Society (RSBS), formerly known as the Rice University Sport Business Alliance, is a student-run organization whose mission is to create awareness and valuable opportunities for the students of the Department of Sport Management at Rice University.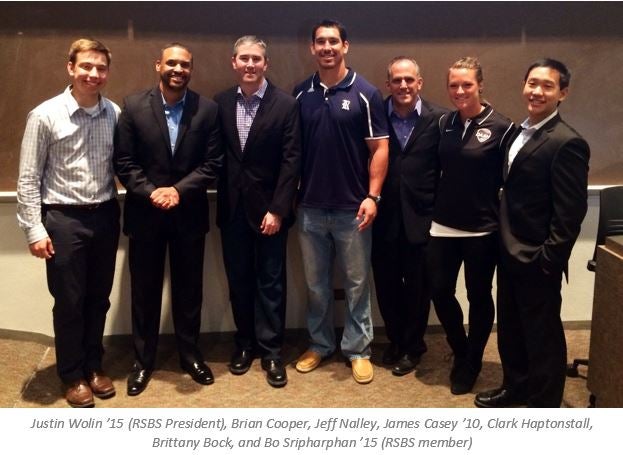 Molly Mohr, a junior from San Antonio, is double majoring in Sport Management and English and minoring in Business.