Alyson Footer and Stuart Holden have very different roles when it comes to using social media. Yet, both have grown to understand and seen the evolution of social media in our society.
Alyson Footer is the Senior Director of Social Media for the Houston Astros. Previously, Alyson served as the Astros beat writer for MLB.com for eight years. After her tenure at MLB.com, the Astros became one of only a handful of pro baseball teams to hire a full-time person to handle social media. Alyson's is responsible for bringing fans insightful tweets, pictures, and video footage.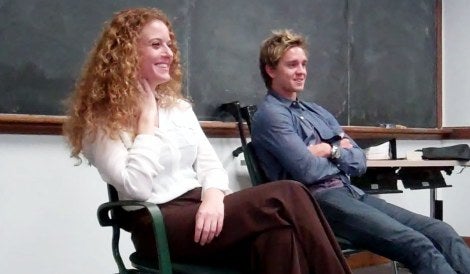 "My job is to make fans feel like they are connected and part of the process," Footer said.Alyson bluntly told the class that she isn't known for being "Miss Sally Sunshine," someone who would only give fans all good and jolly news. Instead she has established a reputation for breaking stories that are "real", which gives fans valuable inside the clubhouse news.
Our other guest, Stuart Holden, was quite a surprise. Holden is known for being one of the world's premier soccer players; but, after his interview, it would be safe to say he is a premier tweeter.Holden understands the importance of social media. He currently has a Facebook fan page, and is very active in using his Twitter (he has 225,000 followers).
"My goal is to interact with my fans and let people get to know me a little more on a personal level," Holden said.
Stuart is a big advocate of Twitter because of his level of connectivity with his fans. Unlike Facebook, Holden believes that Twitter is the perfect tool to assist athletes to unite with their fans. The soccer star says he doesn't like to use Twitter as a marketing tool because he believes athletes can often be portrayed as "ungenuine" when using Twitter to market products. Holden noted that it is important to be smart, but to have fun with Twitter. It's a great tool to receive news feeds, connect with fans, and establish and maintain relationships.
Matthew Reckling, from Houston, Texas, is a senior majoring in Sport Management.