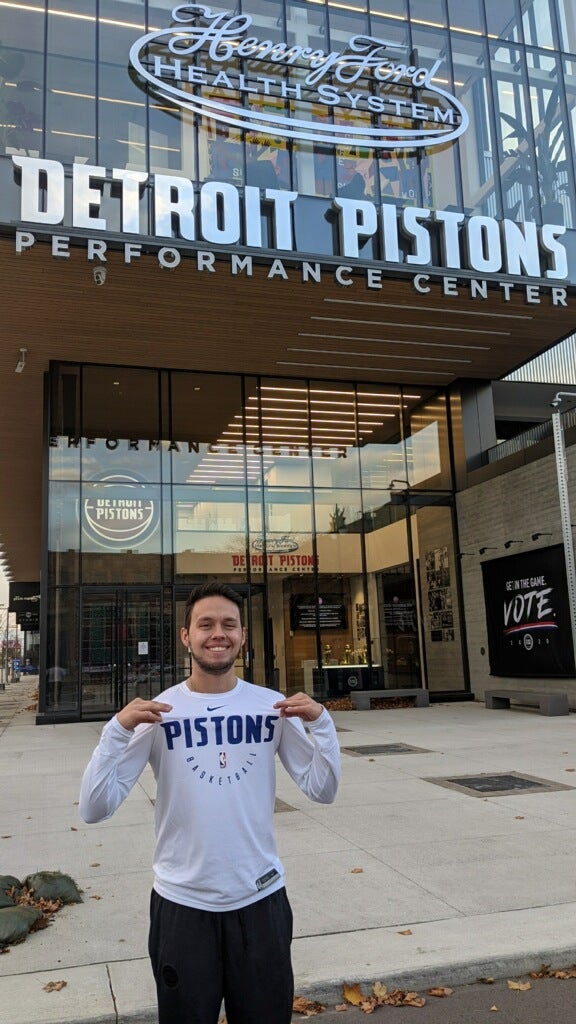 Sergio Santamaria '18 was recently featured in the Wall Street Journal about the journey to his recent job with the Detroit Pistons as an NBA data analyst. Sergio's piece was one of five articles published by reporter Kathryn Dill this summer to Wall Street Journal's "How'd You Get That Job?" section, which focuses on mid-20-year-olds sharing how they got their jobs by giving advice to the next generation of employees.
According to Santamaria, the Wall Street Journal found him because of Tom Stallings, a Professor in the Practice in Rice's Department of Sport Management.
"It was, as many opportunities in my career have been, a result of a good word from Professor Tom Stallings," Santamaria said. "I remember exactly where I was when I got the email from Kathryn Dill at the WSJ -- at dinner with a few college friends in NYC -- and I had to do a triple-take when I first read it."
For this story, Dill was interested in publishing an article about someone in the sports management industry. Rice's notable reputation led Dill to reach out in search of an alum working with a national team in the sports management industry. Stallings recommended several alumni who boast impressive positions and achievements in their young careers, but in the end, Santamaria was selected.
"When asked, I recommended several alumni who had achieved some prominent positions with sports organizations, and ultimately they decided to do the article on Sergio," Stallings said. "Although many other alumni would have been just as suitable, I am glad Sergio was recognized as he has always been a great ambassador for our department."
After completing the selection process, Santamaria met with Dill and photographer Elaine Cromie to get the article rolling.
"I only spoke to Dill once over the phone, and met up with Cromie once," Santamaria said. "There were fact-checking and logistics emails exchanged in between, but nothing too strenuous. I've since been reached out to by another WSJ reporter who's organizing a WSJ job fair of sorts; we recorded a video interview, and content from it will be featured sometime in the next few months."
In the article, Santamaria explains his career path to his current position with the Detroit Pistons and elaborates on his job's aspects, such as what a typical day looks like and the best parts of his job. According to Santamaria, he hopes his article conveys three main messages to readers.
"First and foremost, I hope readers quickly understand that making a career working in sports is in fact possible; that realization in the summer of 2013 was what sprung me into the path that I've followed since," Santamaria said. "Secondly, more generally, I hope the article conveys to people that finding a career that truly doubles as a passion is extremely powerful and exciting. And finally, I truly want to reiterate that I would love to pay my fortunes forward and encourage others to do the same. If there's anything I've learned in my career, it's to be genuine about relationships and friendships that go far beyond trying to get the next job or get the next promotion."
For Santamaria, being featured in the Wall Street Journal is a surreal experience that comes with much gratitude. Santamaria acknowledges that not everyone will have the opportunity to be featured in the Wall Street Journal, but this further motivates him to continue paying it forward to the next generation.
"Of course, it's absolutely incredible to be featured by one of the world's most recognizable media outlets, especially as a Colombian-American immigrant that never had a chance to make a career from playing sports," Santamaria said. "With all that being said, however, I know I'm lucky to have had the stars align into this feature; I'm not one to take things like this for granted and say that anyone who works hard enough will get featured in the WSJ one day. It's why I want to do whatever I possibly can to pay it forward in the future to those that are less fortunate; I started a nonprofit last year, 3D Sport, with exactly that in mind."
Reed Myers, a junior from Paradise Valley, Arizona, is double-majoring in Sport Management and Psychology.