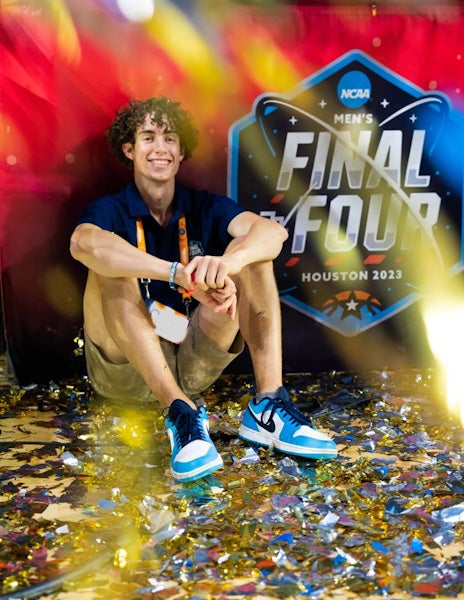 Ryan Freidin '24 was hired by the NCAA to work the men's basketball Final Four which was held April 1-3, 2023, at NRG Stadium in Houston, less than three miles from Rice University.
Hired as a videographer, Freidin's responsibilities included garnering the majority of the iPhone content (IG Stories & IG Reels) being posted on the @mfinalfour accounts. He was part of a six-person team of talented storytellers where he provided much of the video that was featured in recaps from the games and the Final Four's ancillary events.
"Working the Final Four meant everything to me" Freidin said. "When I came to Rice as a wide-eyed freshman, never once did I think I would have the opportunity to work one of the biggest sporting events of the year, yet there I was courtside doing what I love on the biggest stage."
At Rice, Freidin has made the most of every opportunity that has come his way. In his first semester, he interned with Rice's football team as a Video Operations Intern. From there, he earned an internship with Rice's baseball team which entailed running its social media accounts and managing all video production elements. During the fall of his sophomore year, Freidin accepted an internship with the Baltimore Orioles as a Digital Video Intern and then returned in the spring to work with Rice Athletics as a Creative Media Intern.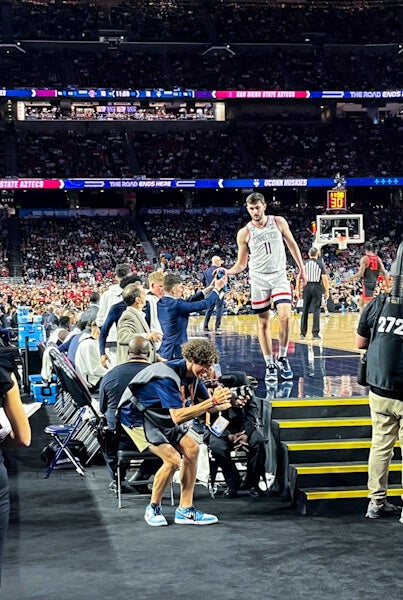 Last summer, he accepted a position with USA Baseball as a Video Intern and was able to work with the Women's National Baseball Team, Collegiate National Team, and MLB's Prospect Development Pipeline. During his junior year, he continued his work with Rice Athletics where he engaged with every sport except for golf, traveling with the women's volleyball team during its NCAA tournament appearance as well as with the women's soccer team during its conference tournament run. Finally, this past semester, he interned with Rice Athletics in a position that he designed himself. He enlisted the help of seven interns to assist in photography and videography for Rice Athletics.
With all of these accomplishments, Freidin was prepared for his dream opportunity with the NCAA during the Final Four this past March.
"For me, this experience felt like proof that all the hours and sacrifices I have made to grow my craft have been worth it," Freidin said. "Not only was I living out my dream, I was doing so with the full support of my friends who were at the championship game. There was no better feeling than hearing my name being yelled out and turning around to see many of the Rice athletes I have been able to make content for over the years waving me on in support. It made me so grateful for the incredible community I have been able to find at Rice and for being able to help play a small part in telling the stories of so many incredible individuals."
"I saw Ryan working at the championship game and he was putting in maximum effort, just running all over the stadium always looking for the perfect shot," Clark Haptonstall, Chair of Rice's Department of Sport Management, said. "He is very talented and he took full advantage of this opportunity. We're very happy for him."
This summer, Freidin will intern with NFL Films as a Creative Producing Intern. This has been his dream internship for the past two years, and he is excited to join what he describes as an "incredible team of storytellers" and learn from the best in the industry. During his time with NFL Films, he will focus on editing, footage logging, writing, and pitching potential projects for NFL Films.
Zuzu Albano, a junior from Brooklyn, New York, is majoring in Sport Management.