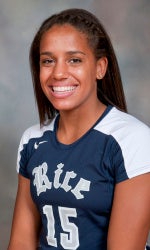 For the second consecutive year, Mariah Riddlesprigger '15, was employed by the NBA to work its Summer League as an intern. Because it was her second year in that program, she had many more responsibilities. The bigger responsibilities helped her gain the respect of the people around her.
Some of Riddlesprigger's best memories were ones relating to building her network for future career plans.
"I met everybody from Mark Cuban to Rick Fox and several team presidents, General Managers, coaches, ESPN executives and sports agents," Riddlesprigger said.
In order to progress towards a career in sport agency that she wants, she must make contacts throughout the industry. Through all of this experience, Riddlesprigger is excited to transfer the confidence she gained to a successful career.
Landon Michelson '14, a senior from Miami, Florida, is majoring in Sport Management.