When the United States National soccer team played Canada in an exhibition match in Houston in late January, Rice Sport Management students were right there assisting U.S. Soccer with a marketing research project.
Upon request from the United States Soccer Federation headquarters, Dr. Clark Haptonstall, Director of the Sport Management Program at Rice University, sent a team of 12 students to team up with U.S. Soccer to collect data as U.S. Soccer was researching to learn more about their consumers and fan base.
In the past, the Rice University Sport Management program has taken advantage of opportunities to work with local professional teams, such as the Texans, Rockets, Astros, and Dynamo, but the opportunity to work for a national federation is not common for any university.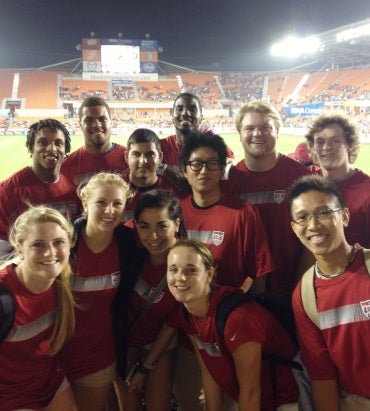 "Because Rice University is located in such a great sports market, our students are really fortunate," Haptonstall said. "When it was determined that the match would be held in Houston, U.S. Soccer contacted us and asked if some students would help with a marketing project. It was a great way for our students to get even more experience at a major sporting event."
Each Sport Management major at Rice is required to complete six credit hours of internship which equates to 300 working hours. However, most students complete far more than the required 300 hours because they recognize that there is no substitute for experience.
"By working the US vs. Canada game I learned that it is important to approach people with a positive attitude to try and influence them to take their time to help you," Bianca Diaz '16, a sophomore Sport Management major, said. "I also learned to pick out specific people to take the survey who do not look like they are rushing or have somewhere to be. I think that this could help me in the future because it definitely helped me communicate with people. In the future I plan to go into marketing. I basically had to "market" this survey and try to convince and influence people to answer some questions."
Michael Sam '15, from Houston, Texas, is majoring in Sport Management and minoring in Business.