Rice University continues to set the bar high with highly ranked academics. And once again, Rice University was rated #1 in the country by The Princeton Review for "The Best Quality of Life" for its students.
It is a rare feat for a school to be rigorous in academia yet still maintain such an upstanding quality of life for its students; however this has become tradition at Rice. In the last five years, Rice has been ranked in the top 10 for "Quality of Life" as well as competing academically with the top tier schools in the country.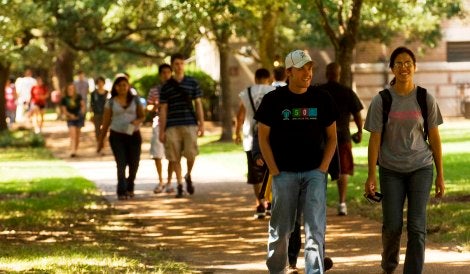 The results were posted in the 2011 edition of "The Best 373 Colleges," which showcases almost 15 percent of America's 2,500 four-year colleges and two Canadian undergraduate colleges. Rice gained this top spot on the "Best Quality of Life" list from the students on campus. Students responded to questions about the food on-and-off campus, the dorms, campus beauty, the friendliness on campus and the surrounding area.
With the world's largest Medical Center right across the street and the school being located in the museum district, students have an amazing opportunity to learn and explore further. The great city of Houston provides numerous learning and entertainment opportunities for students when they are not studying or in a lab.
"Many students love the residential college system as the best thing about Rice," junior Candace Springer said. "We may not have fraternities and sororities, but everyone has love and passion for their residential college."
Faculty and administrators feel the same way.
"Quality of life includes the entire student experience and this includes the fact that, students are committed to each other," Rice University President David Leebron said.
Tanyan Farley, a sophomore from Arvada, Colorado, is majoring in Sport Management and Managerial Studies. Alex Francis, a junior from Missouri City, TX, is majoring in Sport Management and Economics.