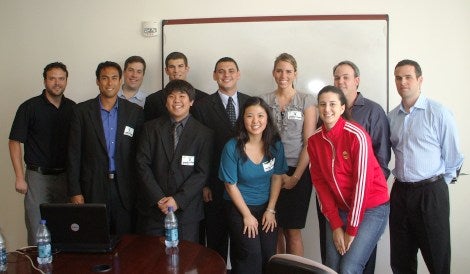 Rice's Research in Sport Management class (SMGT 405) recently presented its findings on a semester-long research project designed to help the Houston Rockets expand their brand in China. Chris Dacey, VP & Chief Strategy Officer, Ken Sheirr, Director of Marketing Operations, Jason Kohll, Senior Director of Premium Sales & Services, and Neil Kennish, Business Strategy Manager, were in attendance.
The purpose of the project was to determine the importance of sponsorships for the Rockets organization as they continue to leverage sponsor positions in China. This led to a discussion of Yao Ming, a dominant player for the Houston Rockets and an icon in Chinese culture, and the importance of his presence for the Rockets.
The initial step was to create a web-based survey and publish the questions on the Rockets Chinese website to identify the cultural perceptions of the Houston Rockets, Yao Ming, and different Chinese and American sponsors in China. The survey included questions in the areas of current Rockets sponsor recall, identification of credible and relevant industries and companies for sponsorship opportunities, as well as their brand awareness to the Chinese people.
Although the number of respondents was not enough to make a generalization about China overall, the results were indicative of how the Rockets are perceived and what type of sponsorship partners should be sought. The data also suggested that Yao's popularity in China can be transferred to the Rockets and provides an invaluable source in establishing a sponsor that will expand their brand.
Kara Lawrence, a junior from Weatherford, Texas, is majoring in sport management and political science with a minor in business. While at Rice, she has interned for the Houston Aeros hockey team and has been a member of other successful Sport Management events such as Rice Night, the inaugural Rice Owl Bowl, and the 2008 football season Operation Sell Out. Currently, Kara is an intern for the Rice Athletic Department and plans on attending law school after graduation.