Nick Fleder '17 became enamored with basketball at a young age as he grew up in New York City watching the Knicks. Less than two decades later, Fleder now works for the team as Data Science Manager.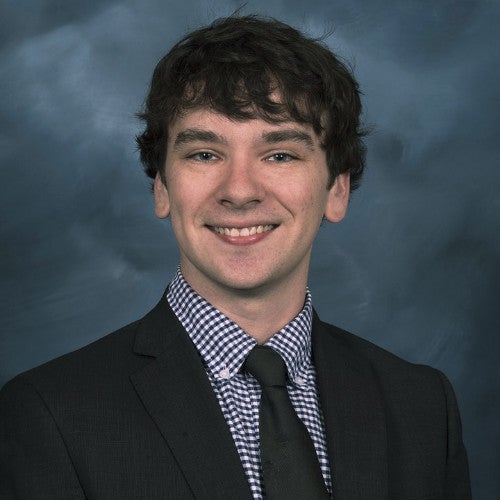 "As a kid, I fell in love with the game of basketball by going to Knicks games at Madison Square Garden with my dad," Fleder said. "That's where I started watching basketball and learning about what was happening on the court."

In addition to watching games, Fleder furthered his basketball knowledge by scouring over box scores in the newspaper growing up. This way of following basketball at a young age might be what initially got him hooked on basketball data.

"Not only would I go to Knicks games and watch them on television, I would also track players and their performances through the box scores in the NY Times." Fleder said. "So, I fell in love with the game while watching and also through the numbers."

Fleder's passion for sports became an anchoring pillar when picking a college. He had a future career in mind when going through the college admissions process. Rice stuck out to him for several reasons.

"I was always interested in going into a front-office role in sports, and so that was part of the attraction to come to Rice," Fleder said. "The chance to go to a great institution, but also to be in a city where I would have internship opportunities with professional teams and a great department on campus that would help facilitate those opportunities."

Once at Rice, Fleder began to dabble in many different fields to pursue all of his passions. As it turned out, the Department of Sport Management established areas of concentration inside of the Sport Management major at the perfect time for him.

"I decided early that I wanted to major in Sport Management," Fleder said. "I always wanted to follow my other interests, which included majoring in History and I took a lot of classes in Computer Science and Statistics as well. It was during my junior year that the Department of Sport Management unveiled the Sport Analytics concentration."

During his time at Rice, Fleder explored the basketball data industry by interning at the 2017 NBA All-Star Week and competing in the NBA Basketball Analytics Hackathon in NYC in 2016. These experiences allowed him to pick up on key pieces of information about the industry as he narrowed down a future career path for himself.

"One of the takeaways from those events was the chance to network and be able to pick the brains of folks who were working in the industry in a very intimate one-on-one or small group setting where you could get honest and unfiltered advice about what you need to do to craft your skillset to get into the league," Fleder said. "Those were good experiences to assist me on securing a front office facing role that was focused on player procurement, draft and free agency, and the other ways in which teams could acquire players and create efficiencies."

Fleder continued to gain experience in the basketball data field in college by working with the Rice men's basketball team and the Indiana Pacers. Working with these two basketball teams allowed him to see how coaches used data to make decisions.

"At Rice, I learned how coaches and recruiters used data to make lineup decisions, rotation decisions and scheme adjustments," Fleder said. "From there, I got an opportunity with the Pacers working with their performance staff processing, organizing and analyzing data related to draft prospects. That was another area where I learned about the specific data feeds that a lot of teams use and how to communicate findings to people who both had a background in statistics and people who were new to the field."

Now, life has come full circle for Fleder, who is currently working as a Data Science Manager for the team he grew up supporting, the New York Knicks. His group's primary goal is to make it easier and more efficient for coaches and front office executives to make decisions regarding their team.

"Wherever we can organize information, process it and help coaches and front office executives be better at player assessment and player procurement, that's the goal ultimately," Fleder said. "Essentially, what we are trying to do is make that information as consumable as possible, come up with new insights based on data feeds and create tools, products and efficiencies wherever we can in terms of getting the best players, maximizing how they fit together and making sure they are the best fit for us culture-wise."

Fleder is at the forefront of the analytics field that is having a significant impact on basketball's landscape. He is also grateful to be in a career where he can do what he loves for a living.

"I think the part that I am so grateful about for this job and for working in this industry is that I would be obsessively watching basketball and figuring out newer creative lenses by which to evaluate players whether or not I was being paid for it," Fleder said. "So it's a cherry on top to do something you love and make a career out of it, so I feel very fortunate that I've been able to do that."

Fleder is now one of many Rice Sport Management graduates to pave their unique path in the sports industry. Now he is excited to give back to current and future Rice Sport Management students.

"I think the exciting part about the industry is that there are opportunities in and out of the team-side that are growing every day," Fleder said. "I look forward to giving back and encourage anyone reading this to reach out to me or anyone else in the sports industry who have graduated from Rice Sport Management. I'm certain we'd be happy to take the time to help."

Reed Myers, a junior from Paradise Valley, Arizona, is double-majoring in Sport Management and Psychology.