After almost eight years with Lone Star Sports and Entertainment (LSSE), Callye Dannheim '07, will be stepping down from her position as Director of the organization at the end of February to explore new and exciting options in Phoenix, Arizona.
Dannheim's long career at LSSE began during her time at Rice University. A triple major in Sport Management, Economics, and Managerial Studies, she accepted an internship in the summer prior to her junior year, working partly in the Houston Texans President's Office and partly with LSSE.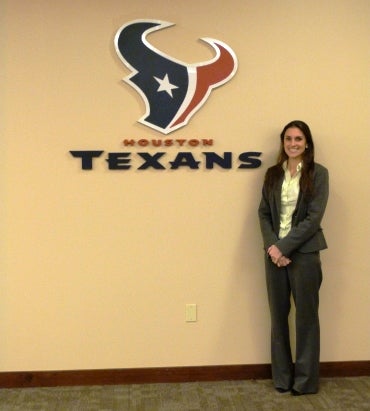 Loving the work environment so much, Dannheim stayed on with LSSE through the fall of her junior year. After graduating from Rice in 2007, she rejoined LSSE on a contract basis, and then was hired full-time in January 2008. Beginning her first full-time position as a Marketing Services Coordinator, Dannheim was promoted to Event and Client Service Manager and then to Assistant Director. Last June, Dannheim accepted the position of Director of the organization, overseeing all aspects of LSSE.
"Callye Dannheim has played a key role in the amazing success of the Texas Bowl and many other events produced by Lone Star Sports and Entertainment over the past seven years," Jamey Rootes, president of the Houston Texans, said. "She's smart, hard-working and committed to excellence in everything she does. Most recently, she has shown her capacity for leadership and management as she stepped in as the Director of LSSE and led us to one of our best years ever. Bottom line - Callye is a superstar."
Reflecting on her time with LSSE, Dannheim emphasized how lucky and appreciative she was to have worked in an organization with "some of the best and brightest minds in all of sports."
"I don't even know how to put into words how incredible the atmosphere is here," Dannheim said. "People are here because they are passionate. We're all excited to be here, we work hard, and it just turns into this really great environment that a lot of people thrive in. I've never seen anything like it – it's amazing. I will always cherish the memories here, and I will always feel so honored and fortunate that I was given this opportunity."
Molly Mohr, a junior from San Antonio, is double majoring in Sport Management and English and minoring in Business.