Laurie McNamara '13 was recently hired as a Product Coordinator for AdvoCare International, L.P. in Plano, TX. Her job falls under the Marketing department, but she works with other departments of AdvoCare such as the legal, supply chain, purchasing, creative, and research & development departments.
"My main day-to-day roles include writing marketing copies for new products such as the promotional material you see with our new products, whether it's in a brochure, on the packaging, or online" McNamara said. "We work with our creative department on packaging designs and product launches, monitoring our competitor's activity, managing our Product Spotlight program, managing our Tumblr page, working with Social Media on any posts related to products, and researching new growth opportunities for the company."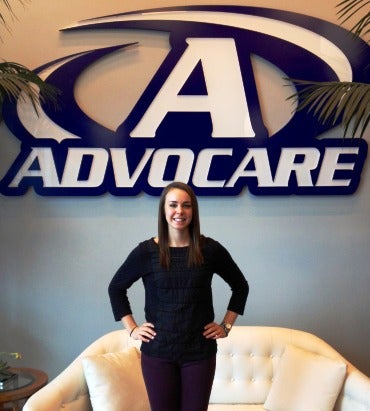 At Rice, McNamara's internships dealt primarily with sales, so she naturally assumed that sales was what she would go into. But taking a Sport Marketing course with Dr. Clark Haptonstall helped her realize that marketing was the career path she wanted to pursue and thrive in. Therefore, she became sure that this was her path when she found the job opening in AdvoCare.
"As soon as I read the job description I knew that this was exactly what I wanted to do," McNamara explained. "I had used AdvoCare products for a while and had great success, so I knew that it was a company that I could believe in and work with. I actually found this job as a posting on LinkedIn. I applied online and went through the process from there. I interviewed literally the day I finished my classes at Rice."
McNamara was the co-captain of the Rice volleyball team and completed three internships as an undergraduate. McNamara explained that the experience gained in Rice was crucial for getting in to AdvoCare. Her first internship at Rice was working with the Elite Division of the Houston Marathon Committee and the other two were with IMG Tennis. She worked as the Player Services Intern for The Bank of the West Classic, the professional women's tennis tournament. She finished her first internship with IMG in San Francisco and was then asked back the following year to complete the internship in Miami.
"The biggest benefit was learning to work under multiple people and also learning how to make cold calls" said McNamara when she was asked what were the things that she experienced during her years at Rice that might have convinced AdvoCare to hire her. "It helped me become comfortable talking to different people, taught me how to assert myself and create a marketing pitch. And finally, and most importantly – my years at Rice taught me how to respond when someone says no."
As an advice for those who are looking forward to seek a career in marketing, she said "Marketing is EXTREMELY competitive. You have to be willing to work your way up from the bottom. Don't assume that just because you have a great degree you'll go in at a management level. You have to work just as hard to prove yourself as everyone else."
Chris Kim, a junior from Seoul, Republic of Korea, is majoring in Sport Management and Managerial Studies.