In May 2013, Klein Kubiak, former wide receiver for the Rice Owls football team, graduated with a degree in Sports Management, and he now holds a position with the Denver Broncos Scouting Department. During his time at Rice, Kubiak seized the opportunity to see first-hand how organizations make financial decisions through his internships with Rice Athletics, the Houston Texans salary cap department, and an investment team within the McNair Group.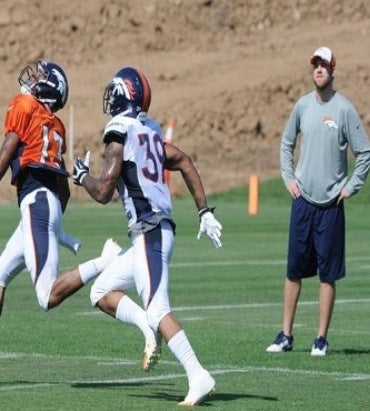 While interning in the Texans, Kubiak learned about the intricacies of the salary cap and how it works in regards to which players get signed, how they are signed, and how the recently released NFL Collective Bargaining Agreement affected their contracts with professional teams. This knowledge has carried over into his new job with Denver Broncos, helping him contribute in scouting players that are the best fit for the organization.
"You begin to see the correlation between contracts and a player's talent," Kubiak said. "Having an understanding of how the money is spent in the NFL, enables you to evaluate players and their talents and understand why certain guys get paid a certain amount."
During the pre-season, Kubiak evaluated players that were recently released by teams in order to fill Denver's open roster positions. He currently manages databases that contain the depth-charts around the league, the boards containing free-agents, prospective players for replacing injured Broncos, and creates tapes of college players eligible for the 2015 draft.
Kubiak's intuition comes from years of playing football at the highest division level in an FBS conference. His combined experience on the football field and internships during his tenure at Rice have enabled him to take on extra responsibilities during practices and in the office.
"Being around the game helps you evaluate players and learn how to watch them," Kubiak stated. "You begin to see who's a good player and who isn't, who has what it takes and who doesn't."
Kubiak has ambitions of someday becoming a general manager of an NFL team. The route he plans to take will eventually bring him back to the all too familiar salary cap department. Kubiak admits that going into the salary cap department is a road less traveled by current general managers, but he explained it simply, "I'm a numbers guy and the salary cap is a giant puzzle piece that I want to figure out."
Trevor Caswell, a senior from Round Rock, TX, is double majoring in Sport Management and History.