A 40-mile bike ride followed by a five mile run- just think of it as another day at the office for Natalie Kirchhoff ('09). Less than three years after graduating with a degree in Sport Management and minor in Business, Kirchhoff has successfully transitioned into a role many people dream of but few achieve: a full-time job as a professional triathlete.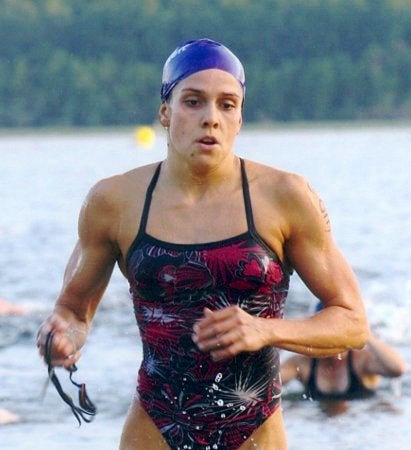 After graduating from Rice, Kirchhoff originally went to work for the Walt Disney Corporation. She served various roles within the company including coveted positions in the College Program and the Professional Internship Program. Most recently, Kirchhoff worked with Disney's Operations Development team where she helped design and develop future Disney resorts around the world.
Kirchhoff began racing in triathlons shortly after the end of her swimming career at Rice, where she was a two-time varsity captain as well as a three-time winner of the Kathryn Scholl True Blue Spirit Award as the Owl swimmer with the best enthusiasm and positive attitude at meets and during daily practice. She spent roughly two years working full-time with Disney while racing in triathlons on the weekends. She experienced some success but knew that that training to become a world-class athlete in three different disciplines required more time and devotion than she was able to give while also working a full-time job.
In 2011, Kirchhoff took the plunge and transitioned into a full-time triathlete. After just seven races, she earned her pro card and can now officially call herself a professional athlete. Kirchhoff says that recruiting and maintaining sponsorships has been a huge part of her life as pro triathlete.
The costs of training, competing, and traveling add up. Kirchhoff looks for companies that provide either products that she can use or money that can help her cover many of the costs associated with her sport.
"Receiving free product is great. The only problem is that buying hotel rooms and airline tickets with protein powder is a little tough," Kirchhoff joked.
Using her skills learned in Sport Management classes, Kirchhoff has been able to market herself to companies that are in line with her interests, values, and morals. The business aspect of being a professional triathlete has given Kirchhoff the chance to hone her skills in marketing, logistics, public relations, and crisis management: only this time, it's for her own personal brand.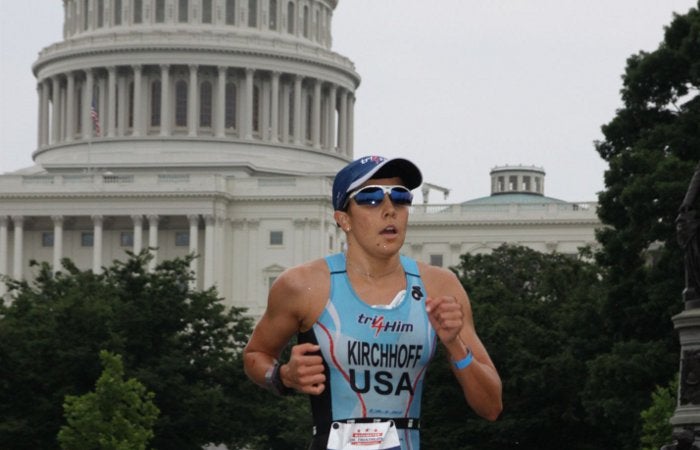 "I thought one day I'd be working for the NFL or MLB," said Kirchhoff. "I never thought that I'd spend my days marketing the brand of Natalie Kirchhoff."
Following a personal-best time at the 2011 USAT Age Group National Championships where Kirchhoff finished as the 3rd woman overall and 1st in her age group, Kirchhoff looks forward to many more successful triathlon seasons to come. Beyond racing, Kirchhoff also hopes to continue engaging in public speaking events, as well as write a book chronicling her life experiences.
"I want to use my sport for a bigger purpose," said Kirchhoff. "I'd like to say that I'm making a difference. Just to see the encouragement that my story has provided for other people has been a huge encouragement for me."
For more information on Natalie's story and updates on her triathlon career, visit www.nataliekirchhoff.com.
Laurie McNamara, a senior from Coppell, TX, is a Sport Management major.