Rice University Department of Sport Management's very own Department Administrator, Kerri Barber, has been named the 2017 Women in Sports and Events (WISE) Houston chapter "Networking Champion of the Year." Barber has been a member of the department for five years and has been working in the Sport Industry for 13 years since graduating from Ithaca College with a degree in Sport Management.
WISE is the leading voice and resource for women in the sports business. Through peer support, mentoring programs and professional development and training, WISE strives to help members maximize their potential, sharpen their skills and advance their careers at every stage of their professional journeys. Both Barber and Diane Crossey, a Professor in the Practice in the Department of Sport Management, are members of the Houston chapter.
"Being a part of WISE Houston has been eye opening for my career as I'm constantly learning," said Barber when asked about WISE's impact on her. "Not only has my professional network grown, which has been able to benefit our department, but I have also made terrific lasting friendships through being active in WISE Houston."
Because she is outgoing and personable, Barber is an excellent fit in the WISE chapter. It comes as no surprise that Barber was named Networker of the Year.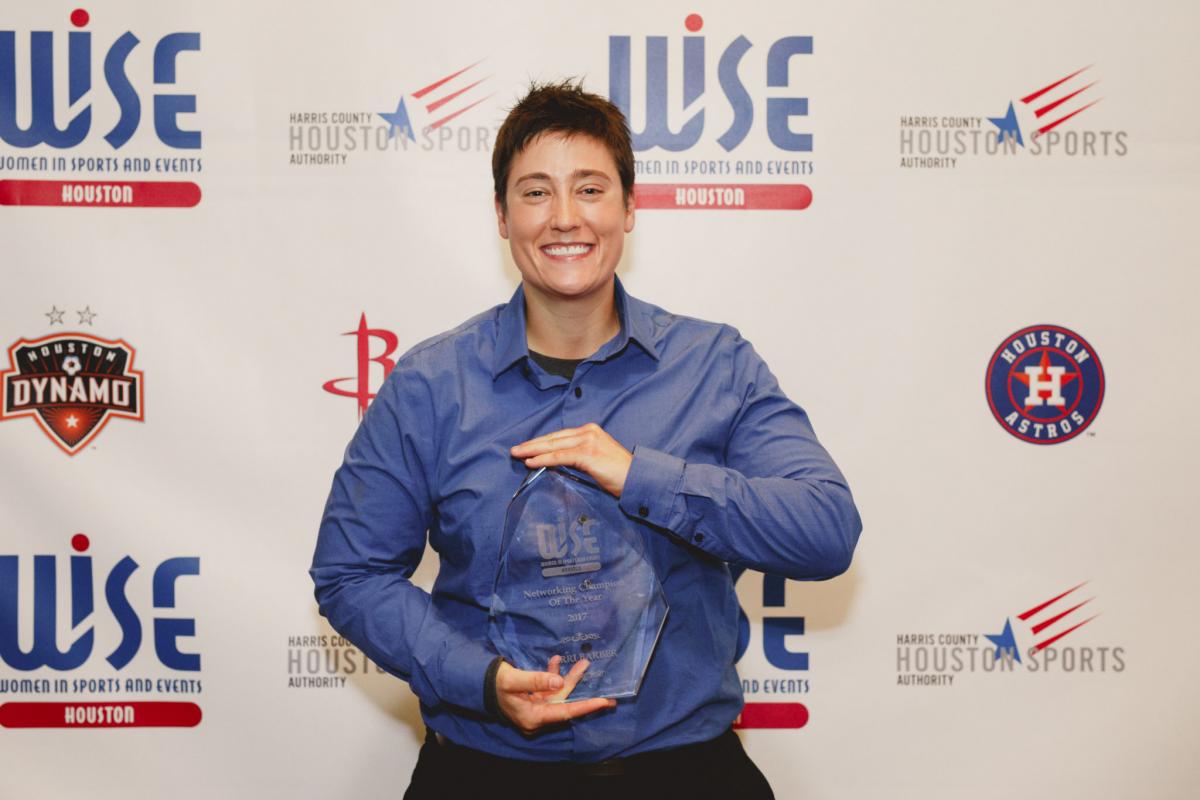 "Kerri was honored at our Women of Inspiration event because of her high level of engagement and energy at WISE events throughout the year", WISE Houston President Carrie Potter said. "She made sure everyone in attendance felt welcome and shared her enthusiasm for WISE with all. Kerri is a connector with a very contagious spirit and WISE was proud to name her our 2017 Networker of the Year."
"I try and make a point to introduce myself and engage in conversation with at least two new members at every WISE Houston event," added Barber. "It's so inspiring to learn the impact these women make on the Houston sport scene on a daily basis."
Laurel Smith, a sophomore from Laguna Beach, CA, is triple majoring in Sport Management, Managerial Studies, and Visual & Dramatic Arts: Film & Photography, and minoring in Business.
(pic cred: Nancy Kloskin with Nancy Love Photography)