Each year, one special Sport Management major at Rice is selected to receive the Lindsay Roemmich Sport Management Achievement Award. This award is presented annually to the graduating senior who best exhibits academic excellence, external sport management experience, a positive attitude, and dedication to improving Rice University's Department of Sport Management. This year, that special student is Maryland native Justin Wolin '15.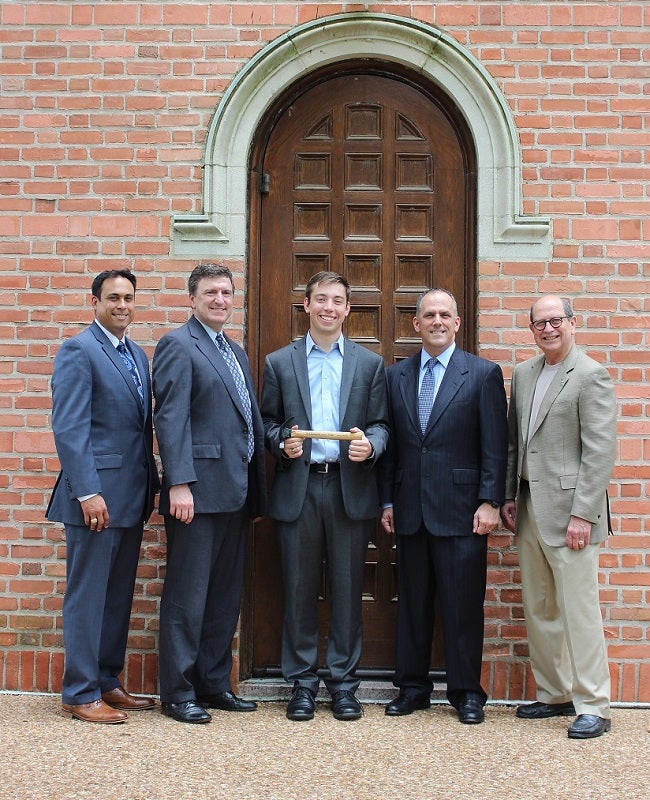 "I'm honored to have been awarded the Roemmich Award," Wolin said. "In the 11 years that this award has been given out it has gone to stellar Sport Management students. It is the path that they paved that has helped me have a successful career here at Rice. I want to thank Lindsay Roemmich and the Department of Sport Management for recognizing me for this prestigious award as it is a great honor to be included in that select group of Rice alumni."
It was a long and busy road since Justin's freshman year, full of academic achievements, but perhaps more importantly, full of productive experiences in the field of professional sport.
"I have been lucky enough to get a lot of experience in the sports industry during my time at Rice, working with the Houston Texans, Houston Rockets, Houston Astros, Washington Redskins, and Major League Baseball," Wolin explains. "However, I would not have been able to take advantage of these experiences were it not for the help and guidance from the Sport Management faculty. These experiences have really helped shape my college experience."
Wolin has no plans of slowing down. After obtaining his Rice degree, he will continue staying busy right here in the city of Houston.
"I have been able to parlay my experiences into a full time job with the Houston Astros after graduation," Wolin said. "If you would have told me 4 years ago that I would be graduating with a job lined up with a Major League Baseball team, I would not have believed you. Yet, here I am and I could not be more excited to get started after graduation."
Past winners of the award are as listed:
Ashley (Anderson) Gibson, 2005
Adam Tabakin, 2006
Sparky Frost, 2007
Frank Arnold, 2008
Natalie Kirchhoff & Charles Hampton, 2009
Jimmy Comerota, 2010
Ashten Ackerman, 2011
Stephen Noh, 2012
Ryan Glassman, 2013
Mary Mikell Lampton, 2014
The award is named after a former Rice student that graduated the same year Dr. Clark Haptonstall, Chair of the Department of Sport Management, arrived on campus. Dr. Haptonstall elaborates on what made Lindsay special.
"She was the first student to buy-in to our new vision of the Sport Management major," Haptonstall said. "Lindsay understood the value in gaining experience and she was the first student we had to complete multiple internships."
Chad Mozingo, a senior from Spring, Texas, is majoring in Sport Management.