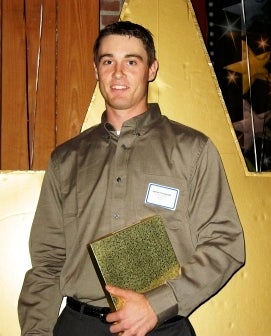 Jimmy Comerota '10 has been featured on Rice University's Athletic Department website as one of "Tomorrow's Leaders."
In addition to playing varsity baseball at a high level, Comerota is also a member of the Rice University Sport Business Alliance (RUSBA), a prestigous group consisting of the most dedicated Sport Management majors. In February, Comerota was honored as a "Scholar Athlete" for having the highest grade point average on the baseball team.
For two years, Comerota has worked for the Houston Texans as a member of the Battle Red Stampede which is an organization that handles a variety of tasks at each Texans' home game and at other special events. He previously held an internship with the Houston Aeros professional hockey team where he worked in game operations and also in the marketing department. This past January, Comerota volunteered for three days with the Chevron Houston Marathon, one of the largest road races in the United States.
"Jimmy never hides behind excuses and he makes the most out of every opportunity," Dr. Clark Haptonstall, Director of the Sport Management Program, said. "He has proven that an athlete at Rice can be very active and excel in other activities on and off of campus. It is a fitting honor that he be recognized with this disctinction. He is definitely one of Tomorrow's Leaders."