On February 10, Jim Crane, owner of the Houston Astros since 2011, spoke to about 60 students majoring in Sport Management at Rice University. He discussed the improvements he implemented on both the business and athletic sides of the team, and he articulated his vision moving forward.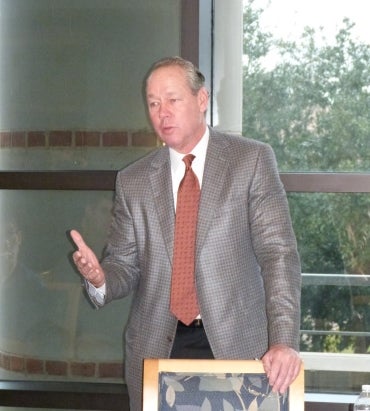 "As we took over, the team was in pretty bad shape, and not only was it in bad shape on the baseball side, it was in bad shape on the business side," Crane said. "We broke down every department and analyzed what was going right, what was going wrong, who didn't get along with each other, and assessed all of the talent in each department, and made the changes to try to improve that."
Crane's changes included a more personalized, customer-oriented ticket sales department and improving the cleanliness and customer service in the stadium on game days. On the baseball side of the team operations, Crane enhanced the team's sabermetrics research, which is a statistical system used to analyze player performance.
Crane emphasized his hopes for the team's improvement on the field.
"This year we should be pretty competitive," Crane said. "I think really next year we could really compete. I'm looking for a .500 season. It'd be a big improvement, but after that I expect to win, and I expect to win consistently."
The Astros begin their season on February 28, playing in Atlanta against the Braves.
Molly Mohr '15, a junior from San Antonio, is majoring in Sport Management and English and minoring in Business.