Unique doesn't begin to describe Jeff Ginn's journey to the top of the philanthropy side of the professional sports world. He was an orphan child to a 14-year old mother. He later was a successful 29-year-old who successfully climbed the corporate ladder. Not happy with this success, Jeff pulled a 180 and became the founder and CEO of Prolanthropy.
From the humblest of beginnings, Ginn grew up watching the father who had adopted him go miserably through his career; hating his blue-collar job and longing for retirement. Then, the year before he finally reached his retirement, cancer took his life. It was at that point that Jeff realized that life was too short. He quit his job and took two years off without pay to pursue his passion, philanthropy in the sports world.
What started as a three-man start-up company has grown in the past 11 years to become "the largest and most successful provider of Philanthropy management services in professional sports." They now manage the non-for-profit organizations of 14 huge name athletes; from NFL Texan Owen Daniels to Major League Hall of Famer Rusty Webber. Their clientele are varied but their programs are personally tailored to fit the specific philanthropic aims of each of their 14 individuals. They demand a superior commitment from their athletes, and deep passion in their own programs. If the athlete doesn't commit or have that level of passion, they can find another company, because Prolanthropy won't even consider them.
Those expectations may seem harsh, but they have proven to have the recipe for successful programs. Some are passionate about rebuilding houses for single mothers, like Selton Quareles of the Cincinnati Bengals. He shared a bedroom with his single mother until he left for college. Charles Tillman of the Chicago Bears was touched by devastation when his 5-month-old daughter underwent two open heart surgeries. He now advocates and raises money for donor transplants. Each athlete has a special story.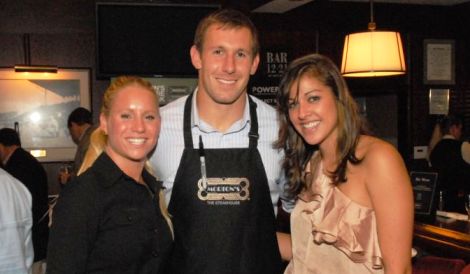 So why was the CEO of Prolanthropy, which is actually based in Cincinnati, Ohio, here in the south? Jeff was in town to pay a visit to client, Owen Daniels.
Daniels is founder of the Catch a Dream foundation that supplies iPads, game consoles, DVD players and the like to sick children at Texas Children's Hospital. Owen's locker was opened last year to provide critically ill children and their siblings with entertainment as they spend 10-12 hours a day in a hospital room. On September 26th, a fundraising event was held at Morton's Steakhouse to raise money for the cause. And raise they did. Texans all-stars such as Adrian Foster, Andre Johnson and even Rice Sports Management graduate James Casey waited the tables as donors partook in food, drink, and lots of autographs and interaction with the players. Autographed jerseys, helmets, footballs and even wine bottles were auctioned off to benefit the foundation's expansion to Memorial Hermann within the upcoming year.
Professor Tom Stallings met with Ginn in Cincinnati a few months back and sparked his interest in the Rice Sports Management Program. Five Rice Sports Management students were privileged enough to be given the opportunity to work the event itself through this relationship. These students, who have shown interest in possibly entering the community relations, philanthropy side of sport, were given the chance to network with some of the industries finest.
Jordan Meredith, a senior, is a Sports Management major from Honolulu, Hawaii. Pictured (L-R): Carter Graves '14, Owen Daniels, and Jordan Meredith '12