Jarvis Sam '13, a current Rice University Sport Management major, has recently added another item to his long list of accomplishments. In early April, Sam won the National Championship in the "Communication Analysis" debate competition at the American Forensic Association National Individual Events Tournament in Hutchinson, KS.
At this competition, in addition to winning the Communication Analysis debate category, Sam also placed 4th in Persuasive Speaking, and also qualified for the Quarterfinals in Extemporaneous Speaking category.
Even though this was his first national title, Sam is no stranger to success. Not only has he qualified to compete at the national level in previous years but he has won numerous awards internally with the Rice University Speech and Debate Team including the Dan Henning Award (2009-10) and the Team Player Award (2010-11).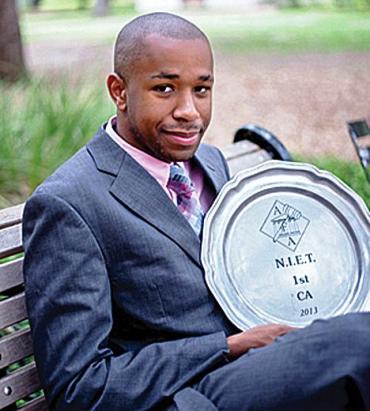 "My favorite event happens to be Communication Analysis," Sam, said. "It is very academic in nature allowing me to use skills acquired at Rice to make a clear and cogent argument."
Sam began his speech and debate career eight years ago in high school. He first joined this extracurricular activity because his whole family also competed in debate when they were younger.
Following graduation this year with degrees in Sport Management, History, and Policy Studies, Sam will be work with Deloitte Consulting as a Business Analyst. After two years of working full-time, he plans to return to school and gain both an MBA and a JD. Sam's main career goal is to eventually work as a sports and entertainment lawyer.
"The key core skills in both written and verbal communication that I have gained, have equipped me with key interview and business communication skills," Sam said. "Not only have these skills proved successful in getting jobs but also succeeding on the job."
Last February, Sam clinched five state titles at the Spring 2013 Texas Intercollegiate Forensics Association (TIFA) Tournament. Following his stellar performance, Sam was named to the Texas All-State Debate Team. As a member of Rice's Speech and Debate team, Sam has bagged over 50 individual championships since his freshman year.
"Jarvis has worked very hard, helped his teammates and represented Rice, the team, and himself with distinction," said Dr. David Worth, director of Rice's Speech and Debate team. "His senior year has been phenomenal, as it should be for someone with his talent and experience."
Travis Roberts, a junior from Sanderson, Texas is majoring in Economics and Sport Management, with a minor in Business. Dylan Mah, from Singapore, is an exchange student from Nanyang Technological University where he is majoring in Sport Science & Management and minoring in Entrepreneurship.