The public relations department at the Houston Texans truly knows how to get the job done, and they have numerous accolades and awards to prove it. This summer, the Texans PR staff won the famed Pete Rozelle award—an award given to the NFL club public relations staff that consistently strives for excellence in its dealings and relationships with the media.
The team that received this most recent award is comprised of: Kevin Cooper (senior director of communications), assisted by Evan Koch (communications manager), Zach Emmons (corporate communications manager), Charles Hampton '09 (communications coordinator) and Brett Maikowski (intern).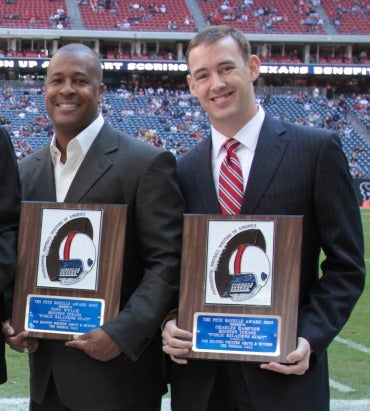 Charles Hampton '09, a Rice University alum who majored in Sport Management, working for "Texans in PR is his dream job" combining a healthy mix of "hard work and fun times." Hampton has been with the Texans PR during two of their award winning seasons and credits his background at Rice University with providing him some of the necessary skills to succeed. He comments, "While at Rice, I worked internships, became familiar with the industry, and applied my strengths to help the organizations and teams where I was working."
Hampton was the co-recipient of the Lindsay Roemmich Sport Management Achievement Award during his senior year at Rice. This award "is given to the graduating senior who best exhibits (1) academic excellence, (2) external sport management experience, (3) positive attitude, and (4) dedication to improving the Rice Sport Management Program."
The winner of the Rozelle Award not only demonstrates a professional vigor in their own jobs, but they also make accommodations to assist NFL writers with their jobs. However, this success is not new to the Houston Texans PR team. This is the department's fourth time being awarded the prestigious honor in the Texans' first ten seasons as an NFL franchise. Receiving the award is not a simple task either; it is voted on by members of the Professional Football Writers of America (PFWA) based on their experiences working with the various teams/departments.
The Houston Texans PR Department has successfully been awarded the Pete Rozelle award three other times in 2004, 2007, and 2010 respectively, which is an incredible feat considering that winning the award in a given year automatically disqualifies a team from winning the following year. Yet and still, the Texans PR staff maintains their professional outlook providing proficient services to writers and reporters.
As new platforms emerge in social media and society becomes so attuned to focusing solely on "40 characters of less," framework the Houston Texans PR staff view it as their responsibility to make sure that everyone remains informed. Hampton affirms that they achieve this resolve by "consistently searching for ways to improve" and focusing on "simplicity and efficiency." Therefore, making the jobs of sports writers that much easier.
The Houston Texans PR staff truly has an effective model in effect and as the team steps on the field to receive their awards on December 16, 2012, they will once again be applauded for their truly significant work. However, it should not be surprising that an award named in honor of a former NFL commissioner (Pete Rozelle, 1960-1989) would be given to a team that provides excellence in service and professionalism.
Jarvis Sam '13, from Houston, TX, is double majoring in Sport Management and History.