Nine years ago, Rice Sport Management alumnus Jesse Tsu '11 graduated with a grade point average that is the stuff of legend, and the highest ever earned by a Sport Management major. Since 2015, the Department of Sport Management has honored Tsu's legacy by presenting the Jesse Tsu Sport Management Academic Achievement Award to the graduating senior with the highest cumulative GPA within the department.
"This award is a testament to all the hard work I've put into pursuing my goals and growing myself, but more than that, it is a big 'thank you' to everyone who has supported me," said Tsu. "I hope recipients can take the time to celebrate themselves as well as to recognize and appreciate the people around them."
This year's Jesse Tsu Award recipient is Frank Li '20. Li, an international student from China, is renowned within the department for being a high achiever. He credits his academic success to the support of department faculty and his fellow students, who have helped push him to do his best.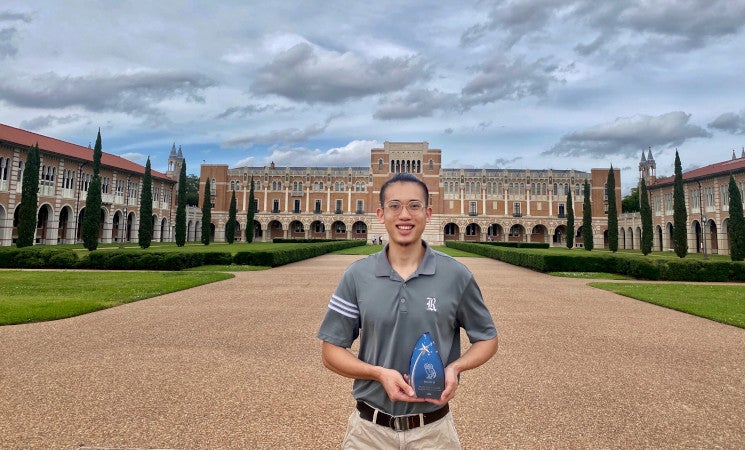 "Coming from China, I never expected students could have a good personal relationship and hang out with faculty, as this is something I never dared to imagine in my previous schools," said Li. "Being able to know professors well enhanced my determination to perform better in their classes. I also have to give credit to my incredible fellow students; we shared the same interests, which helped me integrate into the community and made teamwork a lot more enjoyable."
Li has dreamed of dedicating his ability to a career in the sport industry since long before he attended Rice. And while he knew of the Jesse Tsu Award prior to beginning his studies, he says that his motivation to perform academically came intrinsically from his passion for Sport Management.
"I genuinely enjoyed every Sport Management class I have taken, and grades just come naturally because I am willing to put in the work and learn," said Li. "I am beyond honored to receive this award, and I will use this as a motivation to bring the same work ethic and enthusiasm forward to my future career."
Li has leveraged his academic prowess to land several impressive internship positions while pursuing his goal of working in an NBA front office. He interned with the Houston Rockets as a Business Strategy Intern in the Fall 2017 and Spring 2018 semesters, and in Summer 2019 he interned with the NBA as a Global Media Distribution Intern. He also worked with the Rice Basketball Department of Statistics and Analytics (DOSA) during all four years of his undergraduate studies, interned with SponsorUnited as a Sports Sponsorship Analyst in 2018, and served as a talent escort at both the 2018 ESPYs and the 2018 Nickelodeon Kids' Choice Sports Awards.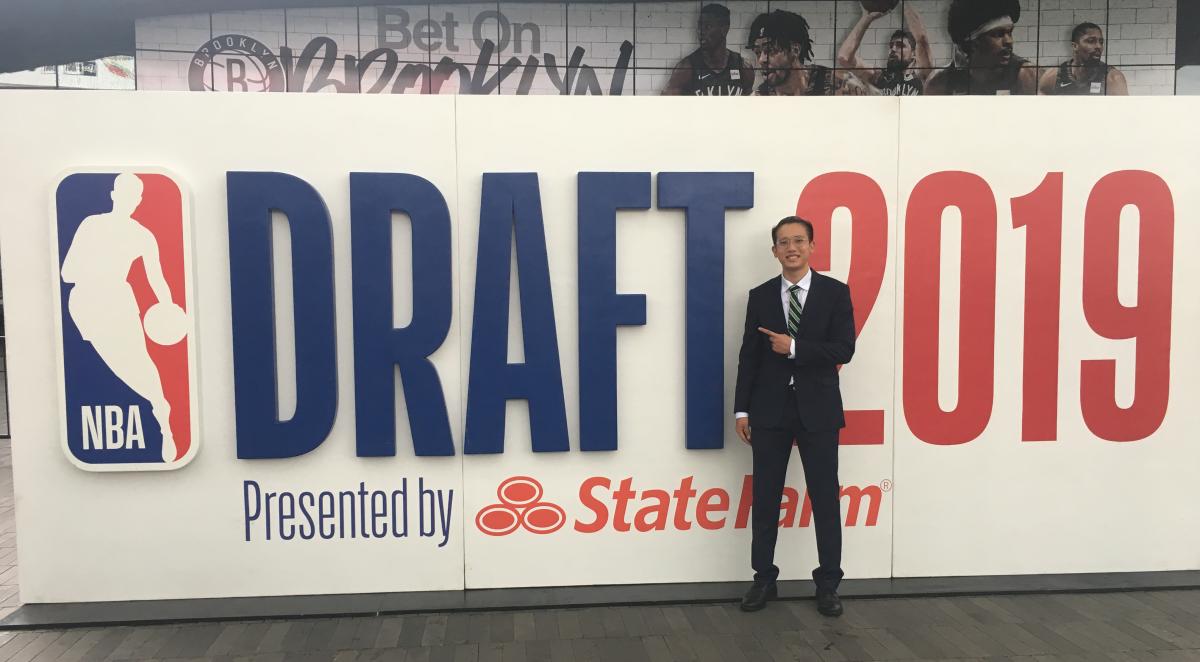 "The most valuable thing for me is that I am doing something meaningful to me and others while having fun at the same time," said Li. "The Sport Management program values practical experience a lot, so I was able to apply what I learned from class in real-world settings while learning from these experiences at the same time. I truly appreciate the efforts the Sport Management faculty put forth to create these valuable opportunities for us."
A double-major in both Sport Management and Computer Science, Li also participated in several sport analytics competitions during his time at Rice. Notably, Li's team advanced to the final round of the 2019 NBA Hackathon.
Post-graduation, Li is entering a full-time position at Aborn & Co., a freight management company based in Boston, as a Data Analyst. He ultimately wishes to return to working in the sport industry, where he can devote his skills and knowledge to his passion. And among his colleagues in the Department of Sport Management, there is no doubt that Li will thrive in these efforts.
"Frank Li is a star and I am happy that he chose to attend Rice," said Department Chair Clark Haptonstall, Ph.D. "He always represented our department well during his internships and in the various sport analytics competitions. Frank will have an excellent career in the field."
Congratulations Frank Li on receiving the 2020 Jesse Tsu Sport Management Academic Achievement Award!
Elliot Stahr, a senior from Irvine, California, is majoring in Psychology and Philosophy.