Four students majoring in Sport Management at Rice University, Travis Stockbridge '16, Travis Guzzardo '16, Jason Petro '17 and Jeremy Reiskind '17, presented at The 92nd Annual Texas Association for Health, Physical Education, Recreation & Dance (TAHPERD) Convention in early December. Dr. James Disch, who is a professor in the Department of Sport Management and a current TAHPERD board member, accompanied the students to the convention. While only Stockbridge and Petro were able to physically attend the convention, all of the students' work was displayed for viewing.
Petro's presentation, titled "Four Factors that Help Determine Success in NBA," ties a theory established by Dean Oliver with sport analytics and team records. The four factors include shooting, turnovers, rebounding, and free throws, with each of these elements' formulas tailored to offense and defense. The presentation emphasized the increasing prevalence of sport analytics in the basketball world and its importance in helping determine performance. Petro used his past internship experience to give him the background needed for this presentation; as a freshman, he interned with Major League Baseball at its headquarters.
Stockbridge, who has interned with the Houston Rockets for the past three years, applied his experience with the team in preparing his presentation. Titled "Measurement Capabilities of SportVU Cameras in NBA Arenas," the presentation discussed new cameras being used to track data during basketball games. These cameras are located in the catwalks of the arenas and are able to track individual and team statistics that include passing details, shooting information, and speed and distance of the players and ball. The ball tracking information has the potential to bring great insight on shooting trajectory and offensive/defensive placement of players at any point in the game. Some of the benefits of this new technology include the ability for broadcasters to bring faster and more engaging information to audiences and the opening of new sponsorship opportunities for sports organizations.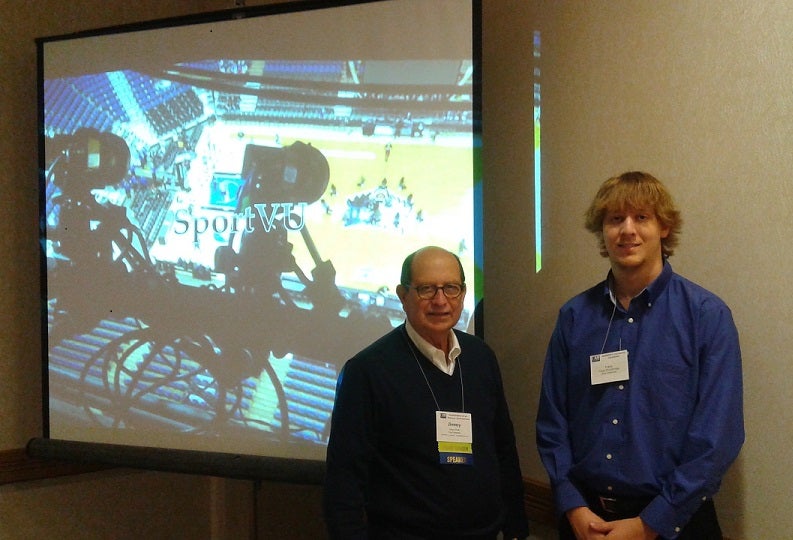 "My experience was great. It was the first time I had presented at a big event like that," said Stockbridge. "I thought the presentation went very well. The audience was engaged, they seemed to be listening/learning, and they asked plenty of good questions throughout. It was absolutely a positive experience. It was something new for me, and something I would definitely consider doing again."
"Travis did a wonderful job on how the cameras are used," said Disch. "[It's] still a relatively new concept, but very useful for many sport factors. Both Travis and Jason were very effective at executing their presentations in a very professional manner."
Although Guzzardo and Reiskind were not able to make an appearance at TAHPERD, their projects were still put on display for the public to view at the conference. Guzzardo's project, titled "Home Field Advantage in Major League Baseball," examined different factors that affected home field advantage through baseball. Reiskind's project, titled "The Effectiveness of MLB Pitchers Based on the Type of Pitches Thrown," covered the types of pitches thrown by various pitchers in relation to effectiveness.
TAHPERD, founded in 1923, is a non-profit professional association of individuals that are actively involved in the fields of health education, physical education, recreation and dance. This association consists of more than 4,500 members from professional to student ranks who serve education from the kindergarten level to the college tier.
Brian Smith, a senior from Houston, is double majoring in Sport Management and Sport Medicine.