Former Rice University Sport Management major Scott Lonergan's career is one that has been marked by a consistent trajectory of improvement and success.
In September 2012, Lonergan reached a huge milestone in his career when he was hired by the prestigious MVP Sports Group, a full services sports agency in Los Angeles, California, as a certified MLB sports agent. The firm has been revered for decades as a top player representation group, signing multi-million dollar deals for a plethora of players. Scoring a job at MVP Sports Group was obviously a huge home run for Lonergan, but his career progression and experience, professionally and personally, undoubtedly equipped him with the necessary skills to excel in his new position.
During his tenure at Rice University, Lonergan was a right-handed pitcher for the venerated Owls Division-I baseball team. His success in baseball afforded him the unique opportunity to enter the 2007 Major League Baseball Draft, where the Boston Red Sox drafted him. However, Lonergan still wanted to establish a firm professional resume for his time after baseball. So, using the surfeit of resources offered by the Sport Management department, Lonergan landed an internship with Houston's minor league hockey team, the Houston Aeros. His responsibilities there included writing trade agreements, managing radio advertising budgets, and promotions.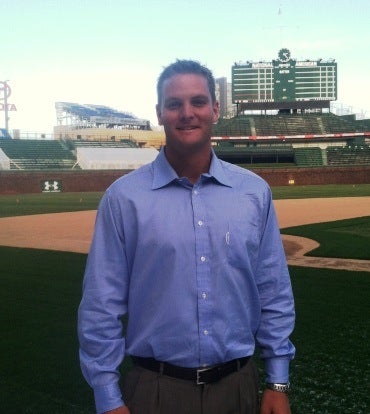 By the summer 2006, the field of agency in sport seemed increasingly appealing to Lonergan, so he applied on a whim to Select Sports Group, a sports agency in Houston, TX that deals primarily with baseball and football players. Working under several agents in the firm, Lonergan's work as an intern resulted in the acquisition of $15,000 in endorsement deals from products and clients. He remained there until the Red Sox drafted him.
After leaving the Red Sox club in January 2009, Lonergan went on to pitch for the German team Regensburg Legionaerea and the Long Beach Armada. It was at that point that Lonergan gave up baseball and reentered the professional world, where he had proven so successful during his undergraduate career.
In February 2010, begin working as the Advanced Scouting Coordinator for the San Diego Padres. Lonergan was responsible for preparing scouting reports for the Padres opponents, preparing for arbitration, and delineating the targets for free agency. After close to two years on the job, several executives at the Padres were hired away to the Chicago Cubs and immediately asked Lonergan to leave with them. He excitedly agreed, and joined the Chicago Cubs as an Amateur Scout, where he worked for ten months until leaving to accept a position at MVP Sports Group.
"Baseball is a small world, and after playing professional baseball and working for several professional baseball organizations, I developed a healthy network," highlights Lonergan.
The power of his network resulted in Lonergan's first interaction with partners at MVP Sports. The team was looking to add a new agent and after a series of conversations with individuals in Lonergran's network, his name came up and MVP was instantly impressed. He was hired in September 2012 and now serves as a certified sports agent. His general responsibilities include managing the careers of several professional baseball players.
Lonergan says, "all of the classes that I took at Rice University undoubtedly prepared me with the skills necessary to prove successful in my position. That combined with my work experience is what helps me to be effective at my job."
As a baseball agent, Lonergan has successfully managed to combine several aspects of his academic career with many of those in his professional experience. Although he is still at a stage of continued growth and learning, Lonergan hopes to one day be one of the most recognizable names in the world of sports agency. Given his trajectory from his time at Rice onward, that is a goal that is definitely within reach.
Jarvis Sam '13, from Houston, TX, is triple majoring in Sport Management, Policy Studies, and History.