In mid-November, the Rice Sport Business Society (RSBS) partnered with the Rice University Department of Sport Management in organizing "Inside the War Room: Evaluating NFL Talent," an informative interview where Neil Stratton, President of "Inside the League", asked Miller McCalmon, long-time NFL scout and front office executive, questions pertaining to his career in the sports industry.
McCalmon has 35 years of NFL experience as a scout, coach, and administrator. He served as Associate Director of Pro Scouting for the Houston Texans and as Assistant Director of Pro Personnel for the Detroit Lions. Stratton has been President of "Inside the League" since 2002, a consulting service for the football industry. He provides business-to-business information for pro and college football insiders and has experience working with all-star games, scouts, and financial planners.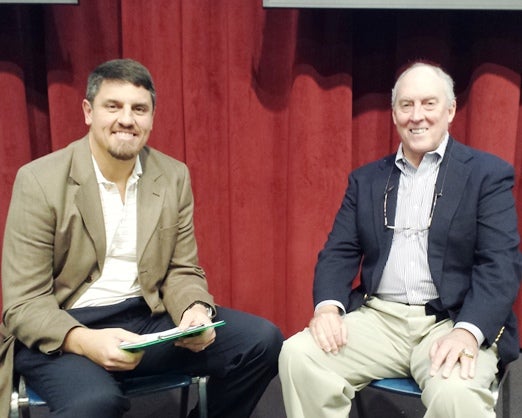 During the interview between the two professionals, McCalmon explained the strategy that scouts and teams take during the draft process, such as their different methods and the qualities they base their decisions on. He also talked about his journey throughout his career, and how he got his foot in the door by interning with the Washington Redskins in 1976. He advised students to jump at any opportunities, such as internships, that would prepare themselves for NFL operations if they are interested in that area of the industry.
"Get as much experience as you can before you get into the business," said McCalmon. "Mentors are very valuable, and you must find successful people in your area."
Rice students have numerous opportunities to obtain these opportunities and mentors that McCalmon mentioned. At Rice, there is an emphasis for students to intern early, even as freshmen, and to gain crucial experience that is appealing to employers and applicable to their careers. For students like Molly Mohr '15, a Sport Management major and member of RSBS, this event was just one of the many different opportunities the Department of Sport Management provides its students.
"The chance to meet seasoned professionals in the sports industry, like Stratton and McCalmon, is invaluable," Mohr said. "The Department of Sport Management and RSBS do a great job giving Rice students opportunities like these to make contacts and learn more about potential career paths."
RSBS is a student-run organization whose mission is to facilitate connections and create valuable opportunities in the sport industry for the students of Rice University.
DJ Green, a sophomore at Rice University from Mesquite, Texas, is majoring in Sport Management.