Beginning in the Fall of 2016, Sport Management majors, including myself, may have noticed something a bit different about the dynamic of their upper-level required courses. Surrounded by all the students my age and younger, was an older guy who didn't talk too much but was always attentive, respectful, and eager to learn. As the school year began to progress, more and more students began to realize that that guy was in fact, Philip Humber, a former Major League Baseball pitcher and Rice baseball legend.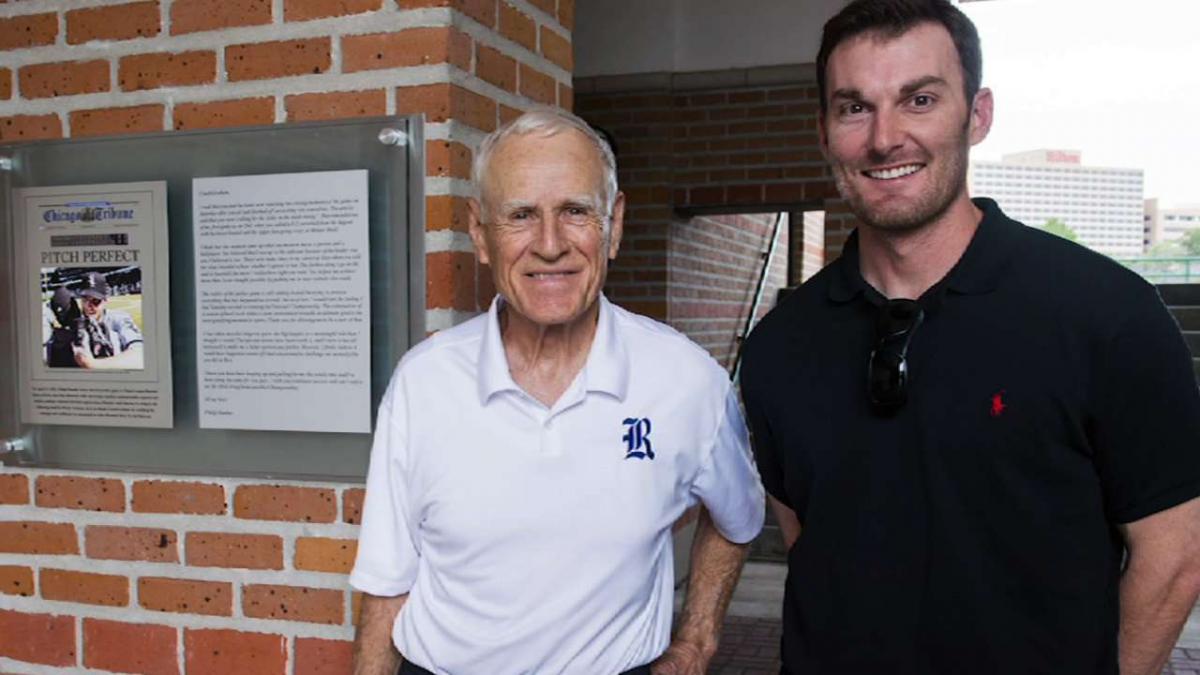 Humber has spent the past year completing his degree in Sport Management and classifies as a "senior" at the age of 34 years old. Humber and I are in two classes together this semester: Sport Public Relation (SMGT 466) and Sales & Revenue Generation in Sport (SMGT 360). Just like any other student, Humber was also in other required courses for the major this past year such as BUSI 296: Business Communications and SMGT 366: Event Management, where he was able to interact with other students and even work in group projects with them.
I got to know Philip through classes and daily interaction but I also knew of him beforehand as a formidable pitcher at both Rice University and at the MLB level. Humber played for Rice between 2002 and 2004 where he was a force on the mound comprising a career 35-8 record with a 2.80 ERA while striking out 422 batters in his time here. His individual accomplishments are too long to list but knowing the type of guy Humber is, his team accomplishments are what he'd like to be defined by. In 2003, Humber was an integral part of the Owls team that won the Division I National Championship and was actually the winning pitcher in the championship-clinching game against Stanford. He went on to be drafted by the New York Mets after his junior season as the fourth overall pick in the 2004 MLB Draft and was quickly on his way into professional baseball.
Humber bounced around with a number of different MLB teams but found his most success as a member of the Chicago White Sox from 2011-2012. On April 21st, 2012, Humber had a magical moment on the mound against the Seattle Mariners when he threw the 21st perfect game in MLB history. A perfect game is when a starting pitcher, like Humber, faces 27 batters and records 27 outs. Nobody from the opposing team reaches base for the entire game. For that feat alone, Humber will forever be a notable part of MLB history as he already has a plaque in the National Baseball Hall of Fame and is in the rarest of company.
However, moving past everything Humber has accomplished baseball-wise, I've gotten to know him as a person and non-baseball player very well over the past year and can say he's quite a remarkable guy. As a fellow senior, I spoke to him about what it's like to be in classes with a younger demographic and what he's now learned about Rice academics, picking it up again for the first time since 2003.
"It was an adjustment at first and is still awkward at times, but being around a lot of great young people who are just starting out in their journey is inspiring," Humber said. "I'm much better with time management than I was the first time around."
Humber was at Rice in the early 2000s when the Sport Management department was more of a subsidiary to the Kinesiology department and didn't have close to the status it has now. He spoke highly on what the national-ranked program has to offer now in 2017.
"Sport Management was a fledgling track in the Kinesiology department when I started [and] now it's an independent program that has a good idea of what it wants to be," said Humber. "We are blessed with quality faculty [and] the internship program in particular is a real separator from the old days."
Humber, a member of Sid Richardson College, is all set to graduate with his degree and cross the stage on May 12. Graduation is a bittersweet moment for Humber as he will miss Rice but also an important one…as he made a promise to his father years ago that he is now just days away from fulfilling.
"I'm excited to finish but sad to leave. Rice is a special place for me," said Humber. "I always knew that finishing my degree would be the first thing I did after baseball. My dad didn't' get to go to college and I promised him I would finish."
Humber has accomplished so much since he was last at Rice and while he classifies as somebody on the same level as me, ("graduating senior",) he also has a multitude of life experiences and wisdom that he openly shares with those my age. One thing I asked him when we spoke was for insight into some of the lessons he learned in baseball that also relate to everyday life.
"My baseball career was full of ups and downs. Sometimes you learn lessons the hard way, but those are the ones that tend to stick with you," said Humber. "The biggest thing is never giving in. Coach Graham used to quote Winston Churchill about that very thing."
It is an honor to call Humber a fellow classmate and many others that have gotten to know him over the past year will tell you the same thing. Humber aims to go about his busy days, as a father, husband, and Rice student exhibiting three main characteristics.
"The qualities I want to exhibit [in everyday life] are humility, work ethic, and leadership."
By all accounts, Humber has done just that and is now successfully onto the next phase of life for himself and his family. Since retiring from professional baseball on March 29, 2016, Humber claims that this past year has still been extremely hectic, but in a different kind of way. He finished our interview by speaking on some of his post-graduation plans and his positive outlook for the future.
"The past year has flown by. [My family and I] moved to Houston in August. In May, we are headed back to College Station", said Humber. "Come to think of it, [balancing school and life post-baseball] has been exactly like professional baseball. Only difference is A's and B's instead of W's and L's. I hope that the next chapter of my life is as exciting as the last one has been."
Michael Kidd, a senior from Brownsville, Texas, is majoring in Sport Management. He has served as a Rice Thresher sportswriter, as well as, the Rice Baseball student manager for four years.