In late March, Evan Stackpole '14, who is double majoring in Sport Management and Statistics and minoring in Business, began an apprenticeship with the Houston Astros in Major League Baseball Video Operations. Stackpole had held two previous internships with the Astros before securing his apprenticeship.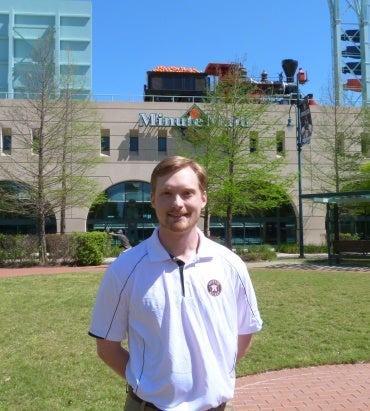 "Every day with the Astros was great," Stackpole said. "I found the work and the video I was dealing with to be fascinating, and I almost felt as though I was a kid in a candy shop. I didn't feel as though I had to go to work, I felt as though I got to go to work."
Stackpole first obtained an internship with the Astros in 2011 working in baseball operations. His second internship with the team focused on video scouting, which is a large part of the work he is doing in his apprenticeship. To complement his internships with the Astros, Stackpole conducted baseball statistics research in the summer of 2012 in Rice University's Statistics Department.
The passion behind Stackpole's interest in baseball began in his childhood, where he was drawn to the allure of the big leagues.
"I have been a fan of baseball since I was a little kid," Stackpole explained. "By the time I reached high school, I realized that my chances of reaching the major leagues were slim to none. I still had a passion for baseball, and I decided that if I could not play, I could still work for a major league team. Since then, I have done my best to learn as much as possible about the game so that I could get a job in the baseball industry."
With his internships, apprenticeship and baseball statistics research, Stackpole is on the right path to forge a career in baseball operations, which is his ultimate goal.
"After my experiences with the Houston Astros, I can honestly say that I cannot imagine a better industry to work in," Stackpole said. "If I could work in baseball operations for the rest of my life, I would do it in a heartbeat."
Molly Mohr, a junior from San Antonio, is majoring in Sport Management and English and minoring in Business.