Being a participant in the United States Olympic Committee's Finding Leaders Among Minorities Everywhere (F.L.A.M.E.) Program was an experience that I will never forget and I will take the skills I learned and networking opportunities along with me throughout the development of my career. Not only did I learn more about what the Olympic and Paralympic organizations have to offer, I also met amazing people from many different places that I will stay connected with.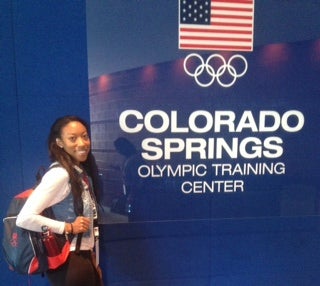 Some activities we participated in were lectures with people working within the Olympic and Paralympic committee and learned more about different sports with sports demos (i.e. sitting volleyball, team handball). We were also put into groups with different diversity issues within certain National Governing Bodies (NGBs). My group's NGB was USA Basketball. My task was to create an app that would engage communities and increase youth participation. During all of these activities, we were also able to enjoy the beauty of Colorado such as Pikes Peak and the Garden of the Gods.
This experience will benefit me in my future from establishing relationships with people with the F.L.A.M.E. program and Olympic committee that are more than happy to assist me on my journey throughout my career. Being a F.L.A.M.E. participant has motivated me even more to make my dream of becoming an Olympic Track and Field athlete into a reality and helping others athletes on my journey. I feel proud and blessed that I was able to participate in such an amazing experience and impress others and even myself throughout it all.
I would like to thank the Rice Sports Management department for not only encouraging me to apply, but also helping to send me to such an amazing program.