As the top-ranked Sport Management program in the country, the academic experience for students in Rice's Department of Sport Management is nothing short of exceptional. To recognize students' academic success, the Jesse Tsu Sport Management Academic Achievement Award is given annually to the graduating senior with the highest cumulative grade point average within the Department of Sport Management. This year, three different students have tied for the Jesse Tsu award: Drew Axelson, Audrey Paetzel, and Catalina Santamaria.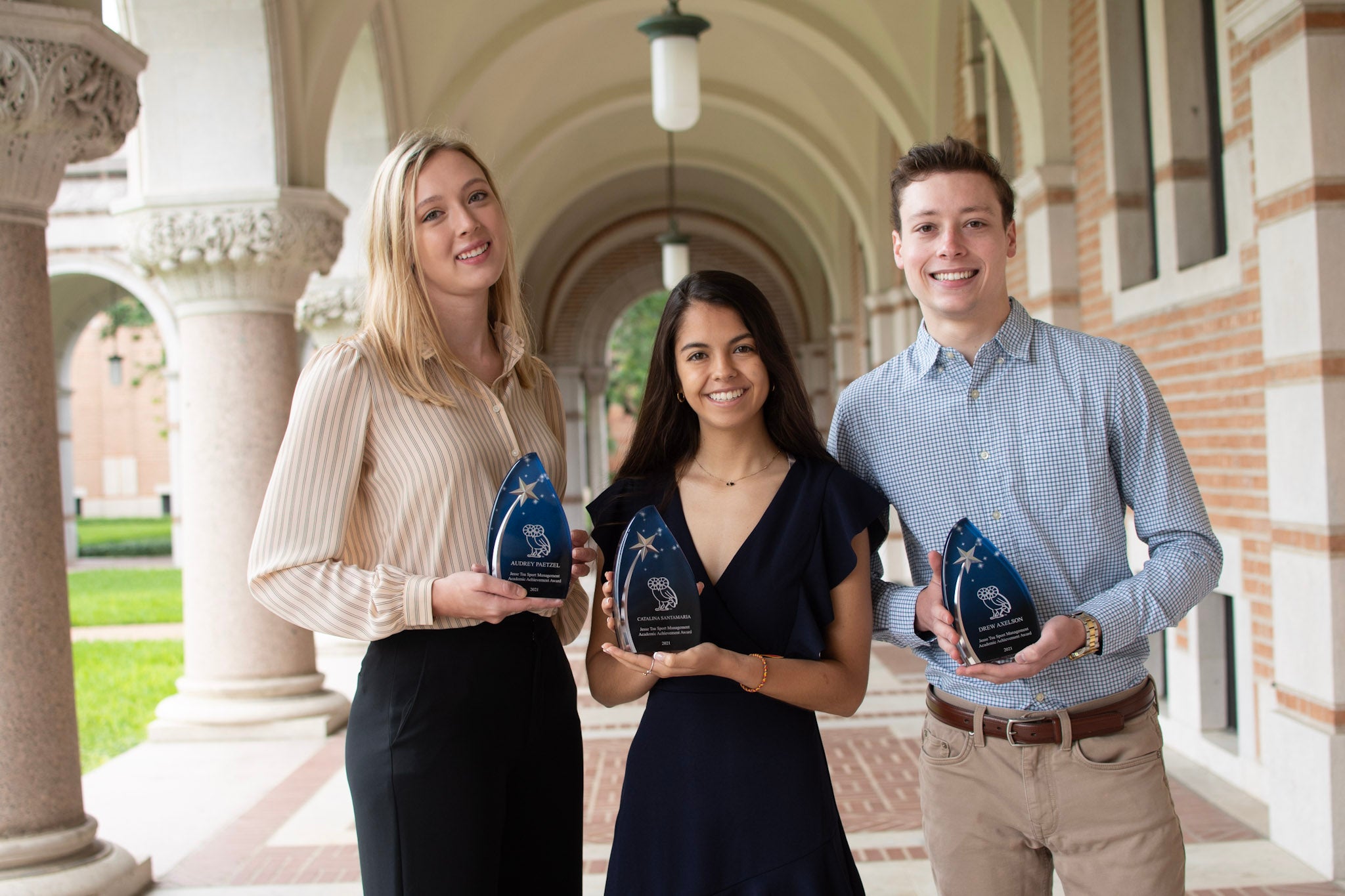 The Jesse Tsu Award is the Department of Sport Management's highest academic distinction. It is named after Jesse Tsu '11, who earned the highest-ever cumulative grade point average for a Sport Management major.

Reflecting on the award given in his honor, Tsu says that recent times have shown how important support systems are as contributors to each person's personal path to achievement.

"The past year, year and half, has been a trying time, and I'm sure everyone has their own story and challenges," Tsu said. "I hope those who were able to be recognized with this award feel proud of their accomplishments and their ability to excel through the adversity and, in turn, take time to recognize those who have been with them every step of the way. Your dedication to greatness bolstered by the support of those around you will continue to be a strong foundation for success."

As usual, this year's award winners boast not only stellar GPAs but broad campus and extracurricular involvement as well. Axelson, who also received a second major in Political Science, completed an internship during spring of his sophomore year with the Houston Livestock Show and Rodeo and then interned with Boston Consulting Group in Summer 2020. His major concentration was Sport Leadership.

"I really enjoyed my time in the program, both in class and especially the experiential learning aspect with the internships," Axelson said. "I am very grateful to have received this award."

Santamaria, also a Sport Leadership concentrator, managed to receive the highest GPA in the major while simultaneously assuming several leadership roles in student organizations. She served as President of Rice Rally Club from 2018 to 2021 and Treasurer of Rice Sport Business Society during the 2017-2018 school year. She also worked several internships and sporting events during her time at Rice, including an internship as a Summer Strategy Analyst with Accenture in 2020 and working as a Media Operations Assistant during the 2017 FIFA CONCACAF Gold Cup.

"I want to thank the Sport Management faculty for their continued support and dedication to my learning development," Santamaria said. "They made every class extremely engaging and enjoyable to participate in. I truly credit them for all of my achievements inside and outside the classroom."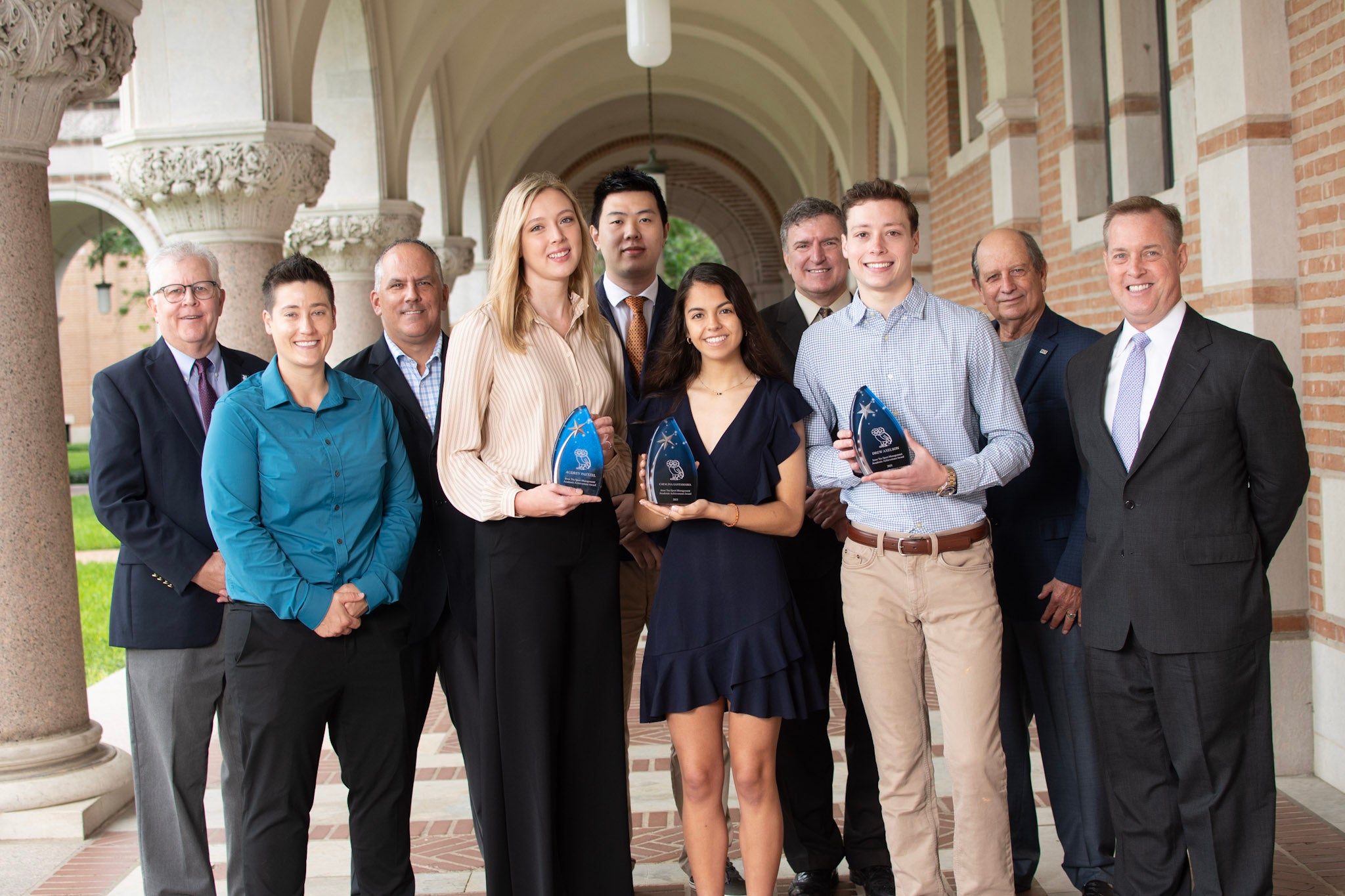 Paetzel concentrated in Sport Law and recently interned with the Houston Livestock Show and Rodeo from August 2020 to May 2021, where she worked on communications such as weekly newsletters, volunteer handbooks, and COVID-19 press releases. According to Paetzel, her academic success would not have been possible without the constant guidance she received from the Sport Management faculty.

"This department allows us to achieve our best by cultivating an environment that encourages exploration of the industry we are all so passionate about," Paetzel said. "Everything I have achieved in my past four years is a reflection of the unparalleled support of the Sport Management department and Rice as a whole."

According to Santamaria, receiving the Jesse Tsu Award is especially meaningful considering all the accomplishments of her fellow students.

"Every day at Rice I felt surrounded by talented and high-achieving classmates," Santamaria said. "To be chosen, out of so many incredible individuals, for the 2021 Jesse Tsu Award is a tremendous honor and means so much to me."

Looking towards the future, Axelson will return to Boston Consulting Group in a full-time position starting in the fall, while Santamaria will be joining McKinsey & Company, full-time, as a Business Analyst starting in June. Paetzel will begin attending the University of Texas Law School this fall.

"Audrey, Drew, and Catalina are all excellent students with very bright futures," Department Chair Clark Haptonstall said. "It is appropriate to publicly acknowledge and congratulate them on their hard work over the past four years."

Elliot Stahr, a senior from Irvine, California, is double-majoring in Psychology and Philosophy.