In mid-April, Dr. Jason Sosa, a professor in Rice University's Department of Sport Management, traveled to Singapore to explore international education and internship opportunities. Sosa hopes to develop an exchange program between Rice's Sport Management Department and Nanyang Technological University's (NTU) Sport Science and Management program.
"NTU has a developing Sport Management program," Sosa said. "Right now, they are currently looking to grow the program. One area of growth they would like to engage in is 'American Sports' opportunities for their students."
Sosa thinks that the potential exchange program between the two universities' Sport Management disciplines would be an excellent opportunity to give NTU's students experiences with the American sports industry.
"NTU has the most developed [Sport Management] program, and they want to make sure their students are trained in the best possible way," Sosa explained. "An experience in the United States and taking advantage of internship experiences here is their goal."
The exchange program would also give Rice Sport Management students the opportunity to work in an industry that is just beginning to pick up momentum.
"The Singapore professional sports model is very young," Sosa said. "The country is aggressively wanting to expand their professional sports industry."
In addition to his discussions with NTU, Sosa met with the Singapore Sports Council and Women's Tennis Association (WTA). Both organizations were receptive to giving Rice Sport Management students the opportunity to intern with them.
Since returning from his trip, Sosa is excited to begin developing this program. Contingent upon university approval, he will be well on his way to giving Rice Sport Management students opportunities to study and work abroad in Singapore.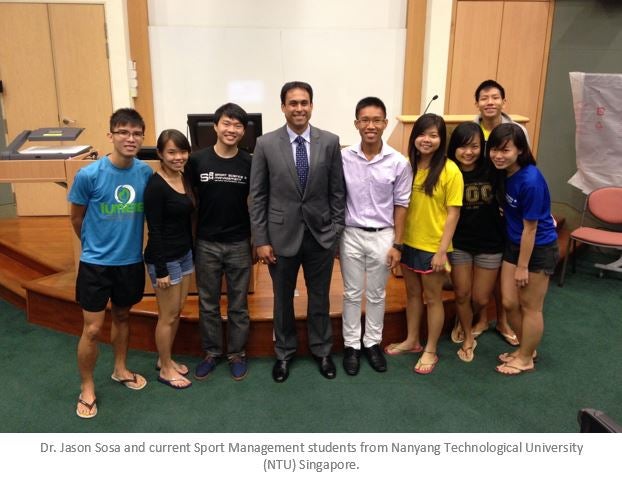 Molly Mohr, a junior from San Antonio, is double majoring in Sport Management and English and minoring in Business.