Johnny Manziel, former Texas A&M University star quarterback and national celebrity, has said goodbye to college football and will be entering the 2014 NFL draft. Along with his numerous victories and the prestigious Heisman Trophy, Manziel will be carrying with him his notorious reputation for partying and posting controversial thoughts on his social media accounts.
"Johnny Manziel is currently branded as extremely talented, but immature, and someone who could end up on TMZ just as much as ESPN," said Dr. Clark Haptonstall, the department chair of Rice University's Sport Management Department. "Now that he has declared that he's going pro, NFL teams and companies looking for athlete endorsers need to be able to trust Johnny Manziel if they are going to associate their brands with his."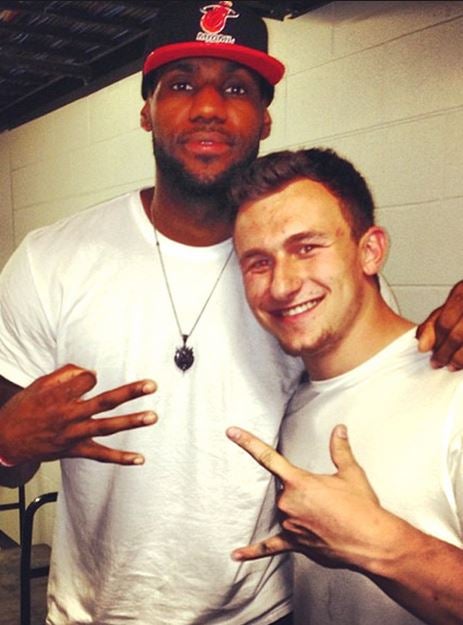 Fenway Sports Management, the marketing arm of the Boston Red Sox, has partnered with LRMR Management, which represents LeBron James, to manage Manziel's opportunities for marketing and endorsement deals off the field. Manziel's friendship with James, coupled with LRMR Management's success in revamping James's image, were important factors in Manziel's decision.
"Two years ago, LeBron James was one of the most unpopular athletes in the country because of the way he publicly handled his decision to leave Cleveland and play for the Miami Heat," said Haptonstall. "Now LeBron's popularity is very high and he can thank, in part, his marketing rep Maverick Carter [the head of LRMR Management]."
Manziel faces a similar challenge in turning around his own reputation. During his time as a college football player, he received some backlash from the Texas A&M community. However, with the way he handled his announcement of going pro, Manziel may be well on his way to recovering from his past mistakes.
"After announcing he was going pro, Johnny Manziel wrote a published letter to Texas A&M fans that helped cement his relationship with fellow Aggies," explained Haptonstall. "It would have been easy for him to not say anything to the A&M fans when he declared himself eligible for the NFL draft, but he did the right thing and the Aggie fans will continue to be loyal to him."
Molly Mohr, a junior from San Antonio, is double majoring in Sport Management and English and minoring in Business.