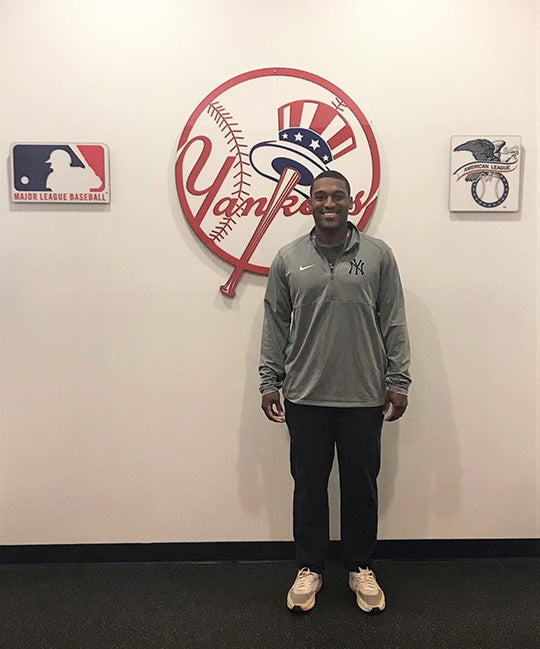 Dominic Cox '21 has landed a position with the New York Yankees as an Affiliate Video Manager for one of their Class A baseball teams. His responsibilities include building prospect databases, recording batting practice, bullpen sessions, and games.
"There's always some small projects for the affiliate teams, and it involves looking up prospects, adding them to the database, and making sure they are available for coaches to see," Cox said. "On an average day, we take care of videos, record bullpen sessions and chart every pitch and every data matrix that comes with the pitch, and when guys take batting practice, we will also have that recorded."
Cox, a former outfielder on Rice's baseball team, gained valuable baseball experience on and off the field during his time at Rice. He was introduced to baseball analytics during a conference he attended while he was an undergraduate student.
"I was introduced to baseball analytics from a friend named Tyrone Brooks who works with diversity and inclusion in baseball," Cox said. "During this time when I met him, I was introduced to a SABR analytics conference where I was able to speak with major league coaches and others in baseball operations about the rise of analytics in baseball."
Once introduced to baseball analytics, Cox pursued this field as he performed an internship with Blast Motion, a data-capturing baseball company. He took the tools and knowledge he learned at Blast Motion and incorporated them during his second internship as a Baseball Data Analyst for Rice's Baseball team.
"My internship with Blast Motion definitely provided me good insight into how data capturing analytics works," Cox said. "Being able to be hands-on with the baseball team at Rice during my senior year was a good opportunity because I was able to work with the players and help them understand what the data meant."
In addition to his internships, Cox networked within the baseball community as he started to find his niche. His internships and some assistance from Professor in the Practice Tom Stallings helped set him up for success with the Yankees.
"Stallings helped me a lot by introducing me to the right people and helping me understand what it takes to be a part of an organization at the next level because it's not like anything average," Cox said. "Everything that I did helped me leading up to this point because I already understood the data and the tools that the Yankees use."
Now that Cox is with a professional baseball organization, his responsibilities with the Yankees extend beyond recording bullpen sessions and batting practice. He and his team use multiple cameras at the ballpark to track games.
"We chart games using a database called BATS, and we chart pretty much everything that goes on during a game," Cox said. "We have eight different cameras set up around the field, so when a pitch is thrown, we start the capture and eight different cameras go off; and after the play is over, we press end capture. So after one pitch, you get eight different camera angles of everything that went on during that play."
While Cox is no longer playing, he now sees the game of baseball through another lens through the work he and his team conduct. He also looks forward to using this opportunity to grow his baseball knowledge.
"It's definitely been a good opportunity to get my foot in the door," Cox said. "In the future, I want to do more than video analytics, but it's a great start to learn another aspect of baseball."
Cox is most excited about working with the Yankees' prospects and working his way up in the baseball world.
"Of course, my dream was to play professional baseball. But if I'm not playing, I'd rather work in baseball and I absolutely love it," Cox said. "Things get easier and easier every day, and I'm just excited to work with some big-time guys that are coming through the organization and work my way up."
Reed Myers, a junior from Paradise Valley, Arizona, is double-majoring in Sport Management and Psychology.