Each semester, the Patrick K. Thornton Memorial Award is presented to the Sport Management student or students who have earned the highest grade in the Sport Law (SMGT 364) class. Caroline Cobb '20 and Emily Mohlin '21 were the recipients for Fall 2018, and Grace Chialiva '22 and Castin Neumeyer '19 were the recipients for Spring 2019.
"I feel so honored and privileged to have received this award," said Mohlin. "I loved learning about the diverse areas of the field of law and how there is a multitude of unexpected ways that law impacts the sport industry. As someone who is studying Political Science in addition to Sport Management, this class was a combination of my favorite interests, and I'm so glad I got to take it."
This award is given in honor of Patrick K. Thornton, a member of the Rice University Sport Management faculty from 2003-2012. During his career, Thornton also taught at the University of Houston, South Texas College of Law, and Houston Baptist University. Thornton was greatly respected, admired, and loved by his students and was considered one of the prominent Sports Law authorities in the United States. Thornton also taught Sport Law and intellectual Property Law all over the world, including Russia, Australia, and Vietnam. This award was created to commemorate his hard work and dedication to the Department of Sport Management at Rice University and the Sport Law community.
"Sport Management is a unique major, as it directly applies classroom knowledge to internships and outside experiences," said Chialiva. "From my time taking Sport Law, I have had a wide array of opportunities, and I know I am preparing myself for the future no matter what career path I take."
The Sport Law (SMGT 364) class is designed to introduce students to the American legal system and how various areas of sports are integrated into the law. During this course, students analyze Supreme Court cases, role-play different legal scenarios, and learn the basics of legal reasoning. While Sport Law is one of three concentrations in the Sport Management Department (with Sport Leadership and Sport Analytics), SMGT 364 is open to all students and is a required class for Sport Management majors.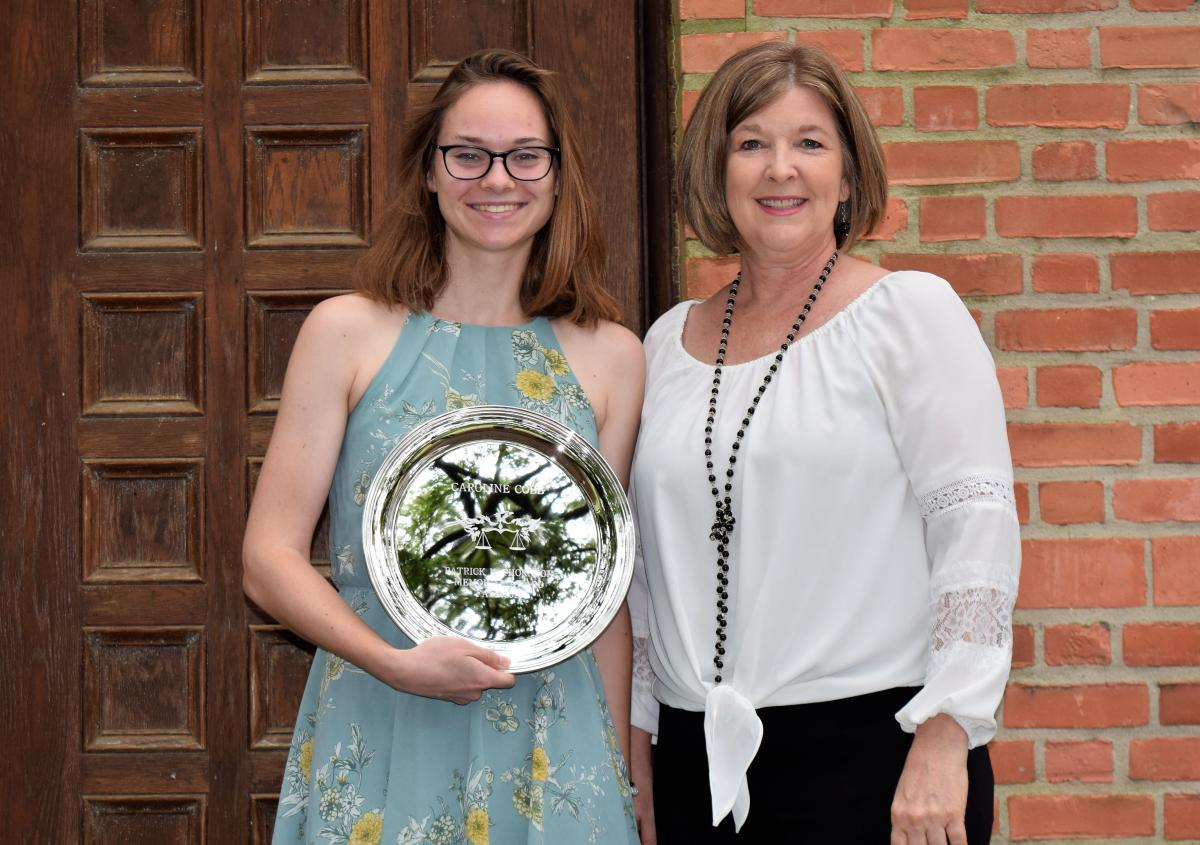 Julia Kolbe, a sophomore from Wilmette, Illinois, is double-majoring in Sport Management and History.
(Picture is of Caroline Cobb '19 with Allison Thornton, the wife of Patrick Thornton)