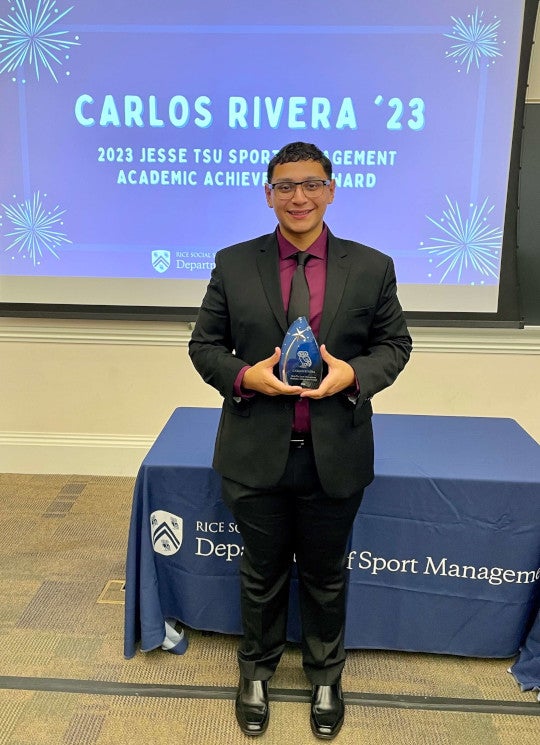 Carlos Rivera '23 is the 2023 recipient of the Jesse Tsu Sport Management Academic Achievement Award which is presented annually to the graduating senior with the highest cumulative grade point average in Rice University's Department of Sport Management. Named after Jesse Tsu '11, who posted the highest-ever GPA among Sport Management majors, this award symbolizes the exceptional academic experience provided by Rice's top-ranked program.
Despite facing a challenging transition to college without high school internships, attendance at specialized schools, or access to certain resources, Rivera successfully navigated the demanding environment of Rice University, mastering essential study skills, time management, and achieving academic excellence.
"It means the world to me to win the Jesse Tsu Award," Rivera said. "Receiving this award is a testament to all the hard work and dedication that I have put into my studies during my time at Rice. I am humbled to be recognized for such an award, especially given the talented and intelligent individuals at Rice."
Rivera also highlights the incredible amount of support he received from the Department of Sport Management throughout his time, providing him with numerous opportunities. He considers declaring as a Sport Management major as one of the best decisions he made during his time at Rice.
"This program constantly showed me why they ranked as the number one sport management program in the country over the last couple of years," Rivera said. "The size of the program allows each student to get personalized help so that their internship experiences are tailored to their career goals in mind."
During his tenure at Rice, Rivera, who also majored in Sports Medicine & Exercise Physiology, seized the opportunity to intern with Rice Athletics' Sports Medicine team where he gained valuable experience on the sidelines and in the training room. This internship served as the foundation for subsequent internships and equipped him with a competitive edge when applying to graduate school.
Rivera will begin working on his Master's degree in Athletic Training at the University of South Carolina in August 2023.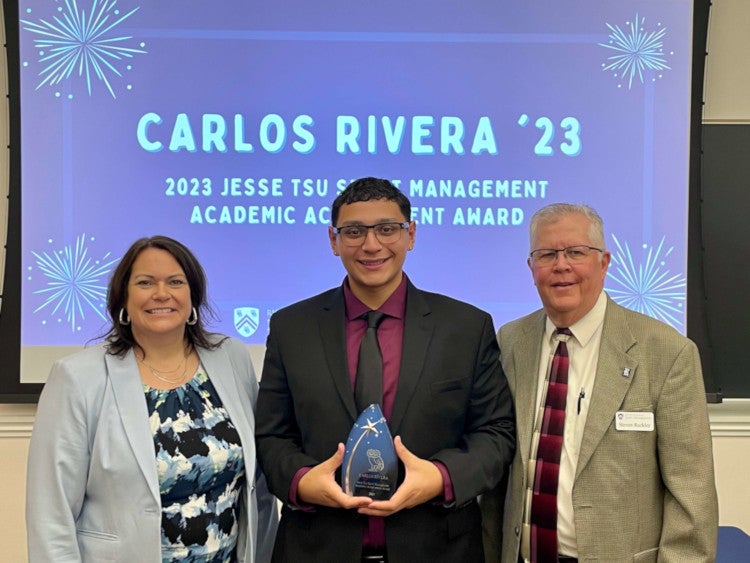 Sergio Rojas, a sophomore from Houston, Texas, is majoring in Business with a concentration in Finance.