This past summer, Cali Roper '16, a Sport Management major and standout on the women's track and cross country team at Rice University, interned with the KHOU television program "Great Day Houston." She performed several tasks for Great Day Houston to help her gain experience towards a professional career in broadcasting, including having her own segment aired on the show twice.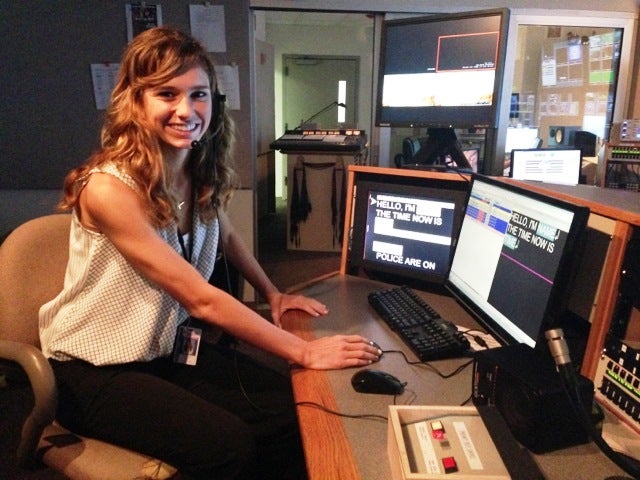 Roper's days at Great Day Houston had her working the teleprompter, writing scripts, entertaining the in-house audience, leading her own segments, meeting all of the guests, and learning from host Deborah Duncan.
"She is the Oprah Winfrey of Texas." Roper said, "Learning from the best and learning all of the aspects of a talk show was a great experience."
Prior to working for Great Day Houston, Roper interned with KIND, a company that produces fruit and nut snack bars. A highlight for Roper was bringing on guest Roberta Anding, who is a clinical dietician and director of sports nutrition at the Texas Children's Hospital and also works with the Houston Rockets and Rice Athletics. On the show, Anding talked about nutrition.
"It was awesome to see my internship with KIND bar rollover into my work with Great Day Houston." Roper explained, "When I was asked to come up with ideas for the show I saw getting Roberta on the show as a great opportunity."
Having her own segment was not something Roper anticipated doing during her time with KHOU. One of her segments was at a local Rice Village ice cream shop.
"Well, I most certainly did not expect to be able to do my own segments on the show," Roper said. "I remember pitching to Deborah Duncan an idea about doing a segment at Cloud 10 Creamery in Rice Village for National Ice Cream Day, and she said, 'Why don't you go ahead and do it, Cali?' I was nervous but also extremely excited. It was a dream come true to be on TV, and especially on the show that my high school news team would take a field trip to once each year."
Roper's first experience with broadcasting came when she was still in high school.
"I became a part of our high school news program 'KAT News' in high school and loved it," Roper said. "I actually started my own segment called 'Food Critic Cali,' where I would whip up something healthy on set and talk about why it was good for you."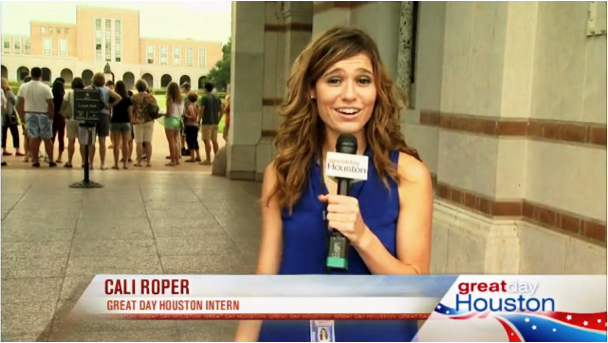 She recounted how years earlier she and her classmates visited the set of "Great Day Houston" as part of a field trip for her high school's news program. Cali and her group watched the show as part of the studio audience. After the show, Cali asked Deborah Duncan, the show's host, how she got to where she is today. Duncan explained how the television industry has become increasingly competitive. In order to set herself apart, Duncan learned everything she could, from sound production to editing her own clips. Roper took this advice to heart and tried to gain as much experience as possible during her internship with "Great Day Houston."
Finally, Roper expressed how much she enjoyed working for "Great Day Houston," and her excitement for what a future in television could hold for her.
"I would ultimately one day love to be the host of a show," Roper said. "I love the fact that Great Day Houston usually always covers very happy, uplifting, and exciting topics. There is still a lot more for me to learn before I ultimately say this is the career path for me, but overall the internship was everything I expected it to be and more."
Joe Beck III '15, a senior from Austin, is majoring in Sport Management major. Jamie Ibanez, a senior from Houston, is majoring in Sport Management.