Dr. Jimmy Disch, who retired from teaching last year and now serves as an Associate Professor Emeritus, created the Sport Management major's Sport Analytics concentration during his time teaching at Rice. To honor his legacy, the Jimmy Disch Sports Analytics Award was started in 2021 to recognize the graduating senior who has shown a strong commitment to academic excellence while earning exceptional experience in the Sport Analytics field as a Sport Management major at Rice.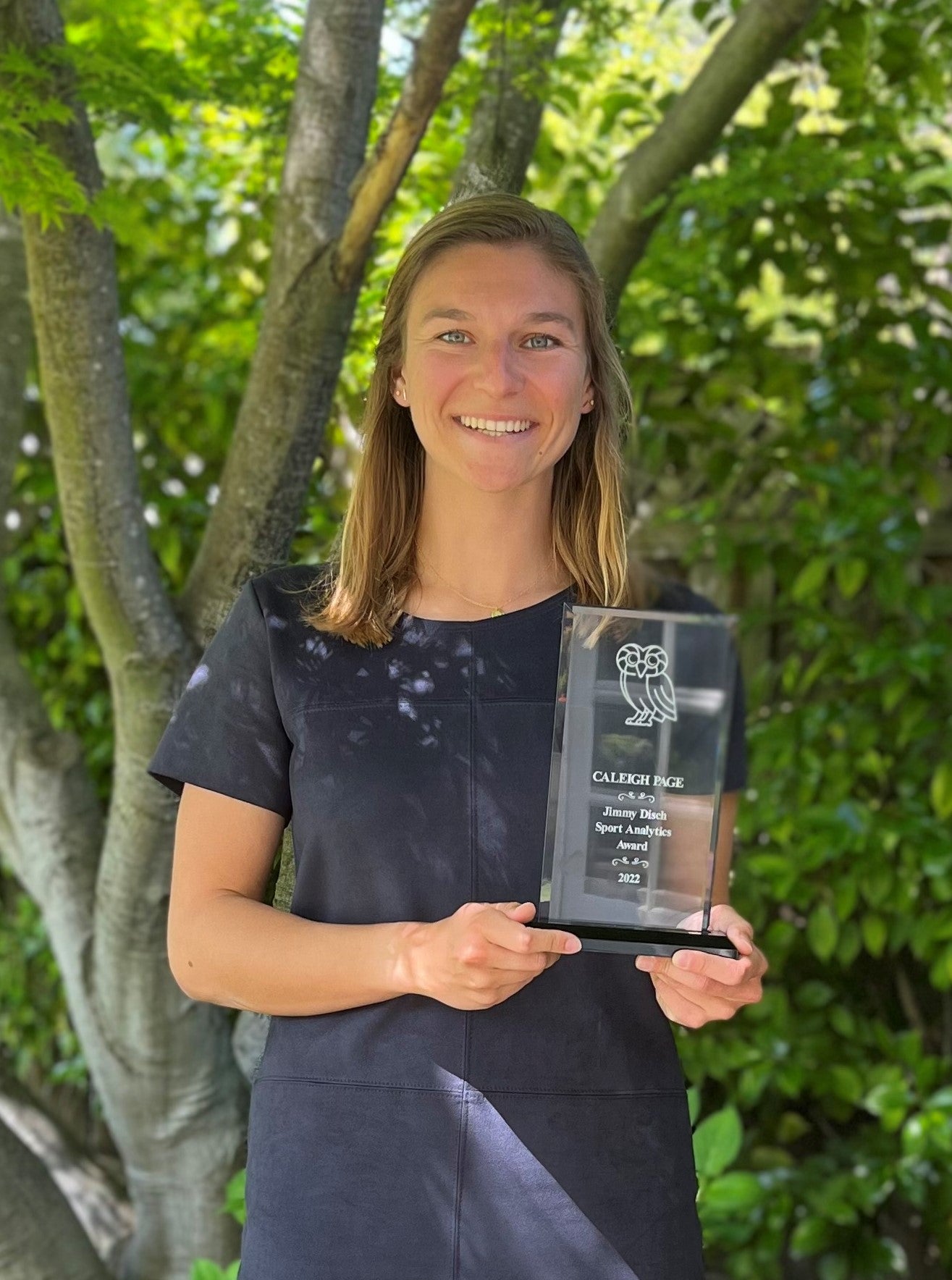 This year's recipient is Caleigh Page '22. According to Page, she is honored to receive this award and is grateful for the environment that the university and the Department Sport Management provided her.

"I am honored to receive the Jimmy Disch Sport Analytics Award and to be recognized for my effort and hard work during my time at Rice," Page said. "I am incredibly grateful to Rice and the Department of Sport Management for providing a space where I could combine my academic and athletic interests."

Page, a star defender on the women's soccer team, began her academic and athletic career at Rice intending to major in another academic discipline. However, she was quickly persuaded to follow her passion for sports academically.

"I was planning on majoring solely in Statistics and pursuing my interest in data," Page said. "During my freshman year, I took Introduction to Sport Management from Professor (Diane) Crossey and loved everything about it."

Page ultimately graduated with degrees in Statistics and also Sport Management as well as a minor in Data Science. As Page progressed through the Sport Management major, she decided on completing the Sport Analytics concentration. The professor who introduced her to this concentration was none other than Dr. Disch.

"Dr. Disch was my first introduction to the analytics concentration," Page said. "His passion for analytics was inspiring and contagious. It was easy to tell how much he loved teaching and analytics. I want to thank him for everything he has done for the program."

"It is very special to me that Caleigh Page is this year's winner, since she is probably the last winner I will have had the pleasure of teaching," Disch said. "She was such a pleasure to have in class, and it makes it special that I did teach her before retiring."

As Page progressed in the Sport Management major, she completed three internships during her time at Rice that centered on Sport Analytics.

"After my freshman year, I interned at Stanford Athletics with their Business Strategy team working on projects in their visualization tool Domo," Page said. "My internship after my junior year was delayed for a year due to COVID-19 where I worked remotely for the Buffalo Bills as a football analytics intern. During my final semester at Rice, I completed a project with the Indianapolis Colts where I created weekly reports to assess offense, defense, and special teams performance while providing data visualizations to illustrate my analytical findings."

As she proceeded down her concentration, Page would go on to take classes under Assistant Professor Hua Gong, a faculty member who specializes in Sport Analytics. Page felt qualified for her internships and is grateful for the knowledge and mentorship that Gong provided her.

"I felt very prepared when starting internships, thanks to our classes," Page said. "I want to add that my experience would not have been the same without Dr. Gong. His mentorship and guidance on numerous projects have given me confidence in my analytical skills, and I cannot thank him enough."

Gong, who joined the Sport Management department in 2020, hopes this award will carry on Disch's legacy and encourage students to continue their success following graduation.

"While attending Rice University, Caleigh did not only finish Sports Analytics courses with excellent grades but also completed high-quality internships with two NFL teams," Gong said. "I am very happy to see the success Caleigh brought to herself and our program through her hard work and commitment to excellence."

Page finished her senior year with another award to add to her decorated athletic and academic Rice career.

"The Department of Sport Management and the major were better than anything I had hoped for," Page said. "It truly felt that the department would do anything for you because they genuinely care about the students and want them to succeed. I walked away from Rice so grateful for everything this department has done for me and has given to me."

Reed Myers, a junior from Paradise Valley, Arizona, is double-majoring in Sport Management and Psychology.