Brandon Yelovich '11 recently returned to Houston, Texas, to begin working toward a mission he profoundly believes in. After earning a Master's degree from the University of Massachusetts this past December, he accepted the Partnership Manager position with Positive Coaching Alliance, a national non-profit whose mission is to create a positive, character-building environment for today's youth to participate in sports.
Yelovich has been immersed in sports his entire life, from the youth sports leagues in his hometown of Friendswood, Texas, all the way to Rice University, where he walked on the football team and become a three-year starter. His passion for sports was evident, but as his career began to develop within Sport Management, he felt the desire to graduate from Rice University early and pursue his Master's degree. He was accepted into #1 ranked Sport Management Master?s program in the world, Mark H. McCormack Department of Sport Management in the Isenberg School of Management at the University of Massachusetts.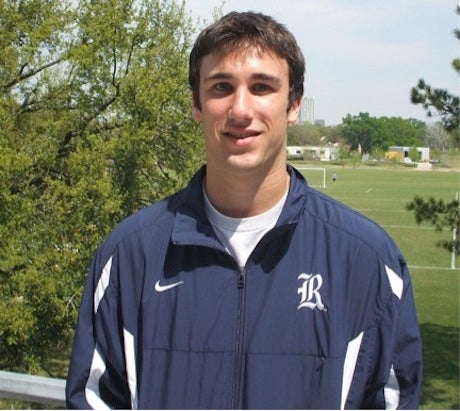 Like many graduate students, Yelovich went there with the fear of facing big student loans, but with one more year of eligibility left to play collegiate sports, he was given an opportunity he could not pass up.
"I was retired from football, and I was happy with my decision to pursue my Master's degree," Yelovich said. "When I arrived on campus, word had spread to the head football coach about my eligibility, and he had an immediate need for a kicker. I turned him down a few times accidentally playing hard-to-get because he eventually enticed me to play for him by paying my tuition with a scholarship. If he hadn't have done that, I would not have had to stay in Massachusetts for an extra semester to finish what I missed in classes during the football season. Then when I finished my degree, the position at PCA became available. Everything happens for a reason!"
Yelovich used the skills that he learned from the Rice University faculty to excel within the McCormack Sport Management graduate program. His experience in sales and marketing, from working as the Executive Intern with the Houston Dynamo, gave him an upper hand when applying for the Partnership Management position with PCA.
"I did four internships while I was at Rice," Yelovich said. "Working for free so much was certainly a character builder! This made me stand out trying to get into such a prestigious graduate program straight out of undergrad where most of my counterparts were coming from the Ivy League and had been in the working world for a few years. Having the experience for the Rice Sport Management program stood out to the UMass professors and it showed them that I understood what it took to make it in the sports world."
Yelovich is now in his third month working for Positive Coaching Alliance, and has reached out to many new partners as well as renewed contracts for previous partners whose contracts had run out. His goal is to double the revenue made from direct-pay partnerships within his first year on the job. He is already off to a hot start after having the largest sales month of the fiscal year (which starts for PCA in September) for the Houston area in February, his first month on his own manning the position.
Michael Sam '15, from Houston, Texas, is majoring in Sport Management and minoring in Business.