Bo Sripharphan '15, a Statistics and Sport Management double major at Rice University, worked as a Business Planning Intern at Nike this past summer in Katy, Texas.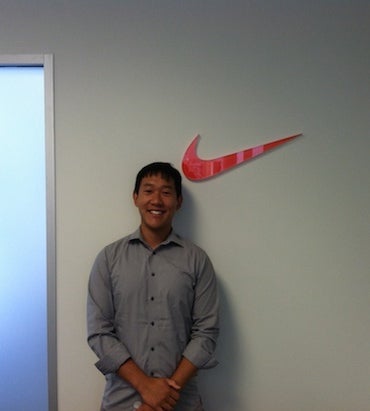 During his internship with Nike, his team's responsibilities included managing the retailer Academy Sports and Outdoors with the overall goal of meeting and exceeding the sales goals. Sripharphan's role, specifically, was to analyze data to drive sales, figuring out which items sold well and those that did not, in order to recommend to the Account Executive and retailer buying group to push certain items into stores and to find a way to take other items off the shelves.
From his experience at Nike, Sripharphan gained skills transferable to other areas and roles in his career in general. Of these skills, Sripharphan said that the most valuable is the ability to present big data analysis as meaningful and concise suggestions, a different approach than what he initially thought would be useful - in-depth and highly detailed reports. From his internship at Nike, Sripharphan has learned how to pick out the most pertinent bits of information and convey them as simply as possible.
Previously, Sripharphan has held internships with the Houston Astros as a Finance Intern, and at Dell as a Sales Intern. Despite being a lifelong Nike fan and self-proclaimed sneakerhead, Sripharphan considered a role in retail prior to interning with Nike, but instead was primarily focused on consulting and the financial services. However, from his degree and experiences in Sport Management, Sripharphan's interests grew.
"Working for Nike was a wonderful experience," Sripharphan said of his internship. "I was fortunate enough to work in an organization I've idolized. My experience with Nike has broadened my outlook on future career paths, providing insight into the type of work I enjoy.
Sripharphan added, "Additionally, of my major in general, I would say that the Sport Management major helped to expand my interests...[and] has shown me that it is possible to make a career out of those interests."
Near the end of the summer, Sripharphan had the opportunity to visit the Nike Headquarters in Beaverton, Oregon. He met a couple of big name athletes, including Bo Jackson, and spent most of his time touring the campus and attending planning meetings with Academy representatives for the upcoming years. He truly enjoyed his experience at the headquarters and learned a lot from it, capping off a memorable summer.
Renee Anderson, a senior from Washington, D.C., is double majoring in Sport Management and English. Elena Gumbs, a junior from Cibolo, Texas, is majoring in Sport Management and minoring in Business.