Becca Lin '10, who double majored in Political Science and Sport Management and minored in Business at Rice University, spent nearly two weeks this past February in New Jersey activating the Xbox brand at Super Bowl XLVIII.
Employed by Wasserman Media Group, Lin works on Microsoft's strategy, planning, and activation surrounding its NFL partnership. This past football season, Lin's primary focus was on Microsoft's Xbox brand. Lin helped execute a variety of programs leading up to the Super Bowl, such as a large, experiential footprint on Super Bowl Boulevard and sponsorships of the Super Bowl Media Center and the NFL Fan Pass.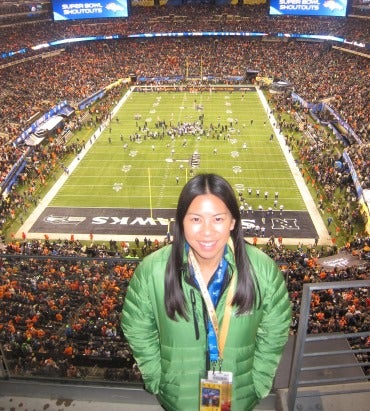 In addition, Lin worked on the partnership between Xbox and Uber leading up to the big game, giving away free rides, Xbox One consoles, tickets to the Super Bowl, and other prizes. In fact, Lin's favorite memory from her Super Bowl experience involves the Uber partnership.
"Some of our Xbox branded vehicles had GoPros and camera crews in them to capture fan reactions and experience," Lin said. "Seeing the reaction of the couple who won the Super Bowl tickets was awesome…and they were on their first date. I'd say that's a pretty good first date…and a nice second one, too!"
Before joining Wasserman Media Group, Lin worked for the Beverly Hills Sports Council and Octagon. She also took full advantage of her time at Rice, interning with XX Sports Radio, the Philadelphia Phantoms, the Houston Texans, and Under Armour. Tom Stallings, a professor in the Rice Sport Management Department, spoke highly of Lin's enthusiasm for the sports industry.
"Becca really took advantage of the opportunities here in the Sport Management Department obtaining progressively more challenging and impressive internships each year that ultimately led to the success she is enjoying today," Stallings said. "She is the perfect example of the caliber of students we are surrounded with here at Rice who not only seek to establish themselves in the sports industry but who also encourage and motivate each other to succeed in this competitive industry."
Molly Mohr, a junior from San Antonio, is double majoring in Sport Management and English and minoring in Business.